Tattoos is a very personal thing and not liked by all. Tattoos for girls who like getting inked, to them a tattoo is emotional, mental, spiritual land, of course, a physical experience. Tattoos may seem cool and trendy but it's much more than that. The tattoo design means much more than just a symbol or shape.
What's a Tattoo?
There is a bit of style quotient in it, a bit of romance, fashion, adventure, and bonding as well. In short, sporting tattoos for girls on a wrist, arm, shoulder, foot, neck, hand (countless places on which you can get a tattoo inked) are being 'bindaas'. Are you one?
Let us take a look at the tattoo designs:
Why Tattoos For Girls?
Whether it's a simple rose, geometric pattern, religious symbol or names and initials, half sleeve or half leg, there are so many ways in which a girl can express herself through a tattoo. The choice is numerous and the options are unique. To cut it short, a tattoo is meant to make you look good, feel awesome and get attention and envy.
Tattoos For Girls On Wrist
Wrist tattoos for girls are probably the most underestimated tattoos that make a huge impact. The most unique tattoos of the lot, although they might seem simple to the outsider, they hold a lot more in-depth to the wearer.
No doubt, wrist tattoos are attention-grabbing but not every girl may risk getting her skin permanently inked. If you desire to draw interest to your hands are not ready for something to stay forever on your skin, you may want to go with wrist jewelry. Pieces like this women's tiny skull bracelet are not only eye-catching but also meaningful.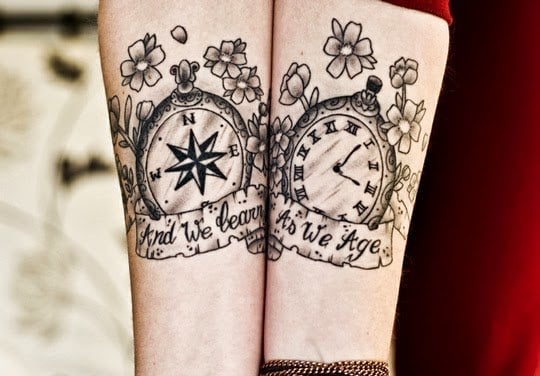 1. Spread Your Wings:
This is a free bird wrist tattoo design for girls who like their space and enjoy freedom. Definitely a cute tattoo for girls on wrists.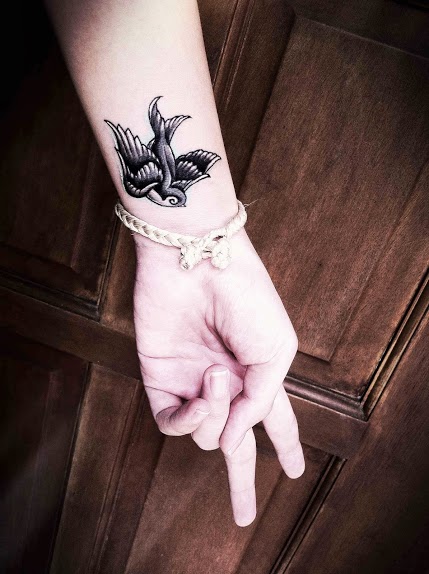 2. Abstract Design:
If you are the type who lives in a shell, a tattoo with an abstract design on the wrist will definitely depict your personality.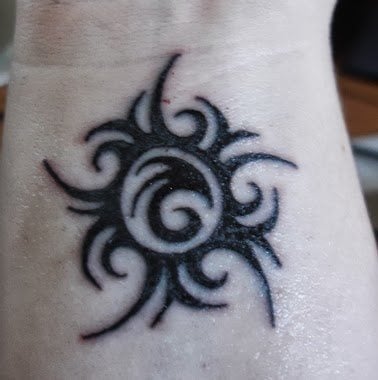 3. Stunning Wrist Tattoo:
Butterflies and cupids are the first love of every young girl. Then, why not get that depicted on your wrist with a butterfly wrist tattoo.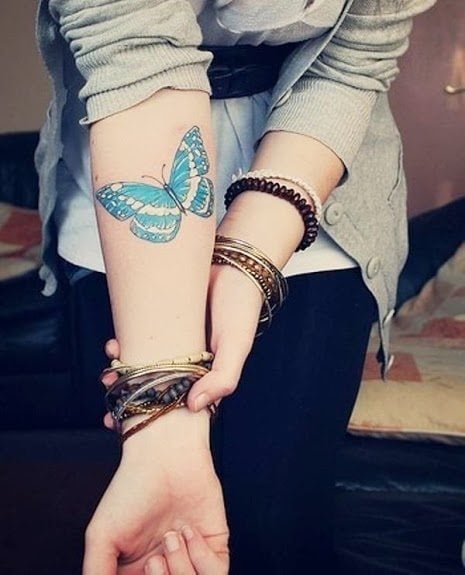 4. Love Your Wrists:
This girl's tattoo idea on a wrist is free handwriting of Love. This is one of the most sought-after woman's wrist tattoos.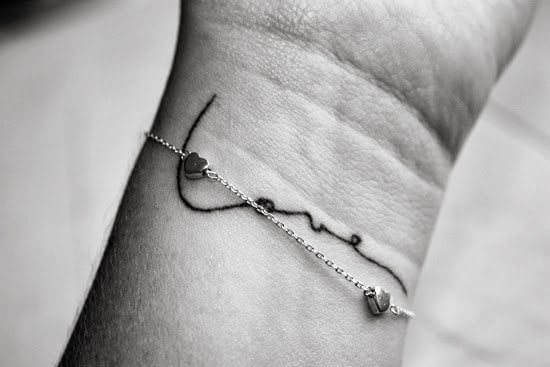 5. Rosary Wrist Tattoo:
Wrist tattoo designs can also include that of a rosary. Instead of physically carrying it around, a rosary tattoo design on the wrist can be an option.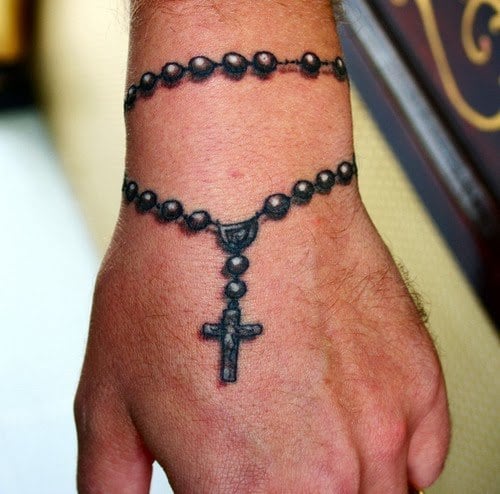 6. Musical Notes On Wrists:
Those who have made music a part of their life can have a music note tattooed on their wrist. You can get a small wrist tattoo done with the musical note design.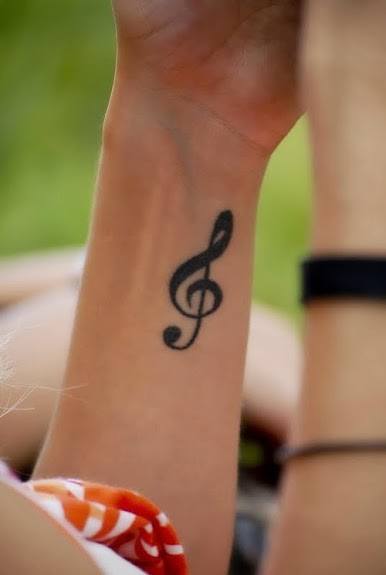 7. Simple Wrist Tattoos:
Want to express love? Get this tattoo design done on the wrist of your and your partners. Isn't this a cute and simple heart tattoo on wrists?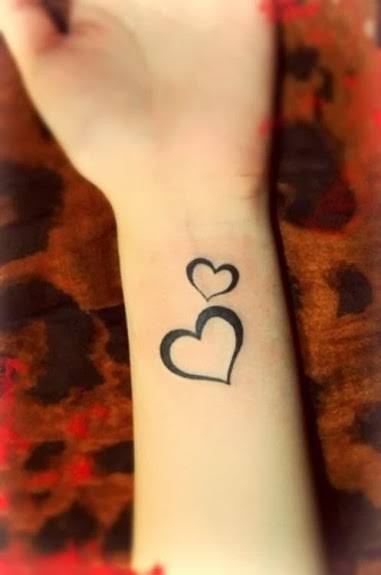 8. Om Wrist Tattoo:
Those who are religious can use this religious wrist tattoo idea for their arm or wrist. This om tattoo design can however be done in any other part of the body too.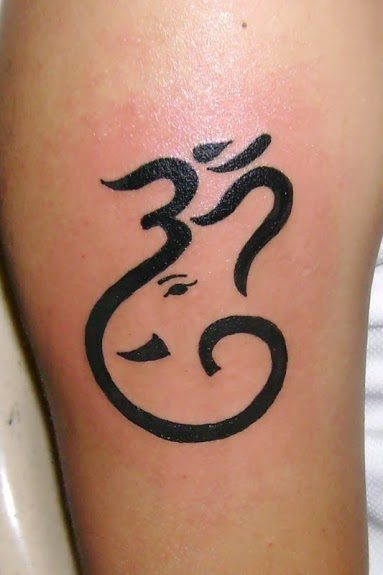 9. Wrist Tattoos With Words:
Want to show off your dimples? Have a simple tattoo like this on your wrist. This will also bring a smile to the person who sees it for the first time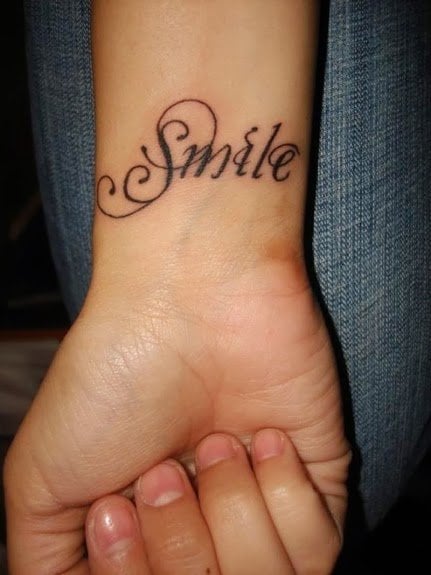 10. Wrist Tattoos With Quotes:
This is one of the wrist tattoos that most girls prefer as it symbolizes freedom.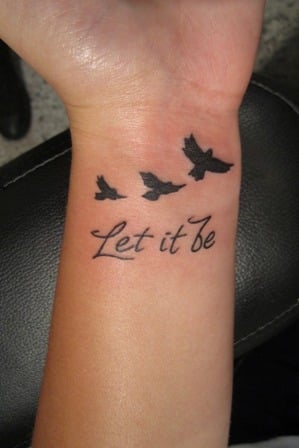 11. Dainty Wrist Tattoo:
Those who feel they are delicate and want to be handled with utmost care can get a rose tattooed on their wrist.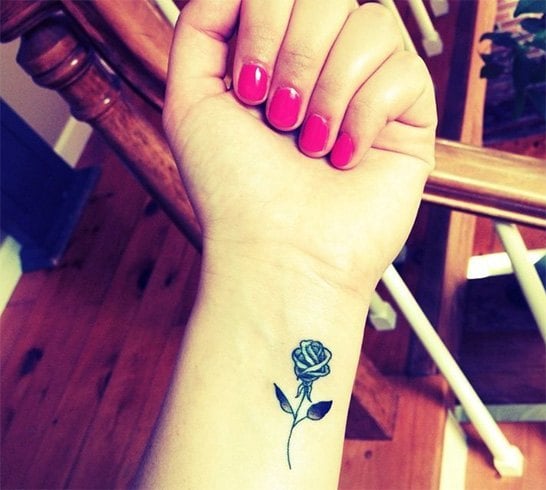 12. World On Your Wrists:
Does travel run in your veins? If you say yes, then this is what you must get. It is one of the awesome wrist tattoo designs for travelers.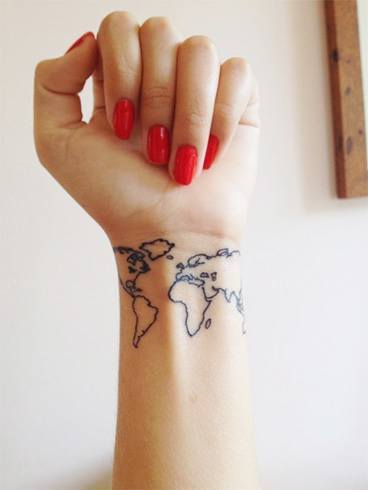 13. Pet Lovers:
Love pets? If yes, then we are sure you would go gaga over this cute inner wrist tattoo design.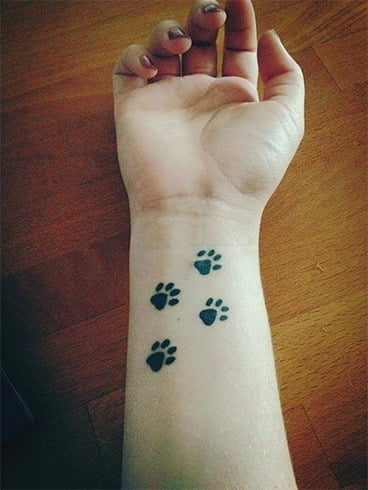 14. Angelic Wrist Tattoo:
If you are among those who believe in angels, then you know what you must have as a tattoo.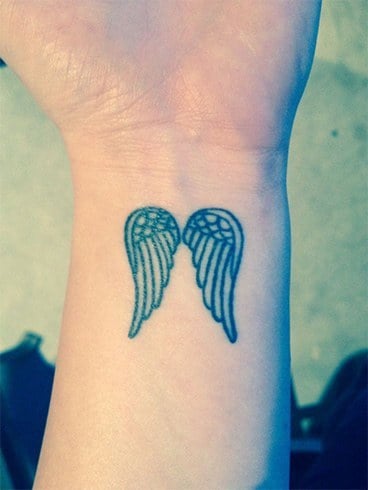 15. Motivational Quotes On Wrist Tattoos:
After PeeCee tattooed "Daddy's Lil Girl", the trend to get a quote on the arm has set in. Quotes are the ideal choice of design if you want to get outer wrist tattoos done.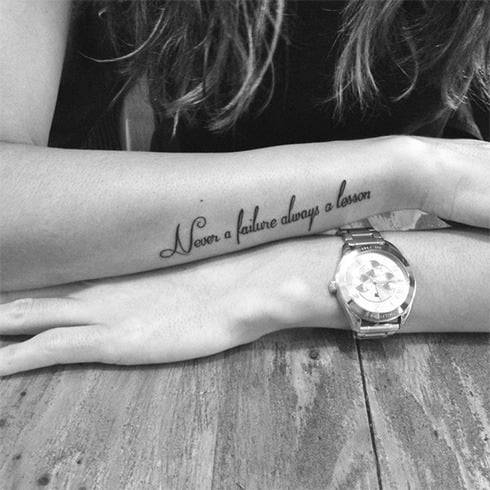 16. Music Lovers:
Music fans and freaks can get a musical note tattooed on the wrist.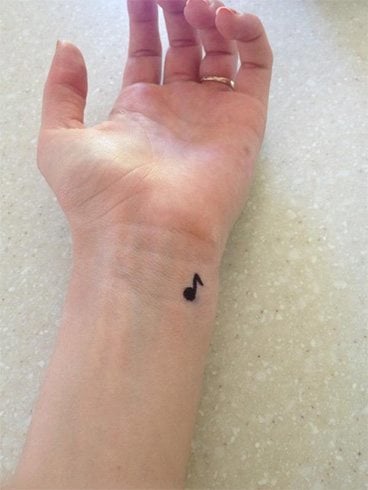 17. Nature Lovers:
Those who love to be close to nature, we know you will love this one. This combination of birds and trees is an awesome wrist tattoo idea for nature lovers.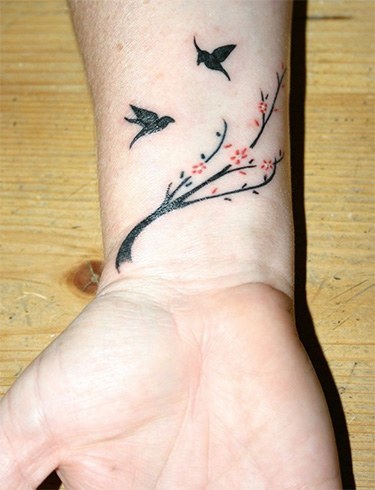 18. Flight Of Birds:
Freedom is what you love? Then you will want this one.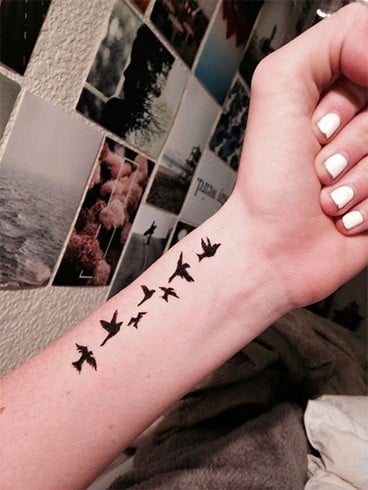 19. Feather On Wrist Tattoos:
Every girl wants to flaunt a feather whether it is as an inner wrist tattoo or as a bracelet wrist tattoo.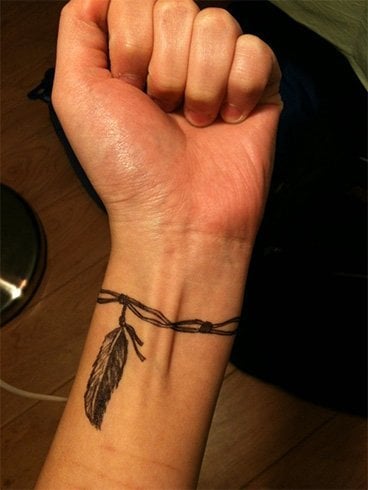 20. Sister Love:
Get a matching tattoo with your sister on your wrist. Check out the below image of a cool wrist tattoo that sisters can sport.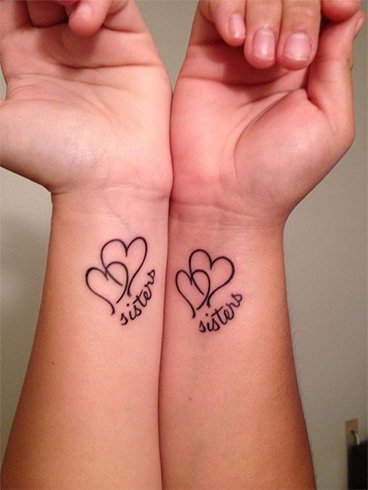 21. Couple Wrist Tattoos:
Looking for a couple of tattoo ideas? The below unique wrist tattoo looks like a winner!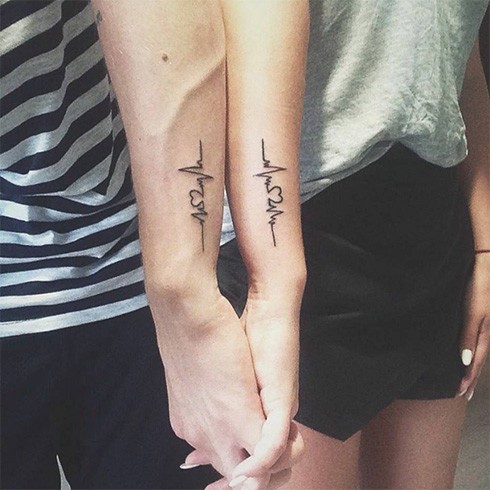 22. Queen Of Hearts:
When you are his 'Queen' you ought to show it with a cool wrist tattoo.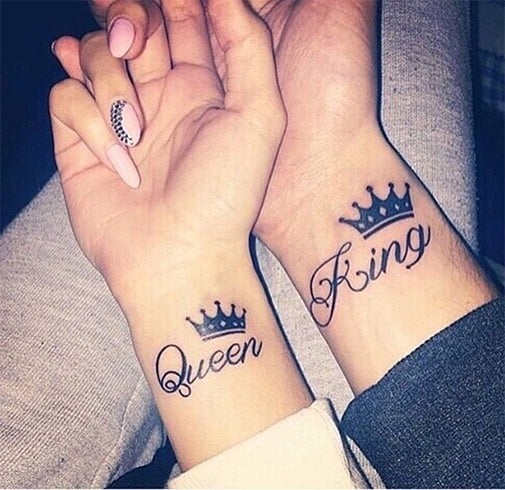 23. Infinity Tattoo:
Infinity tattoos with a quote would be the perfect choice for your daily dose of motivation. It is also one of the most sought-after wrist tattoos for women.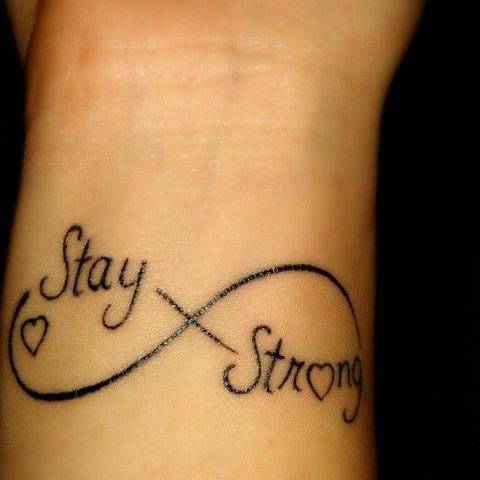 24. Small Wrist Tattoos:
Not everybody likes to flaunt a big tattoo! If you are one of them and are looking for small wrist tattoos, then here is a cute wrist tattoo that you can try out.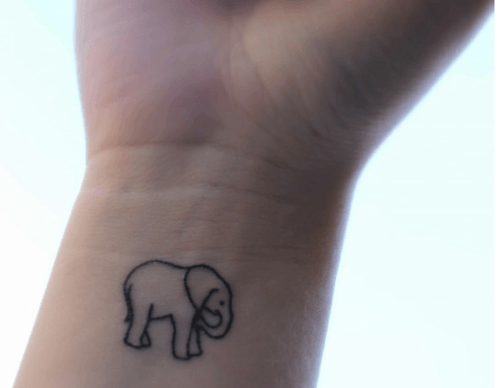 25. Pretty Pink Bow:
A pretty pink bow as a tattoo on the wrist is sure to make everyone go awwww!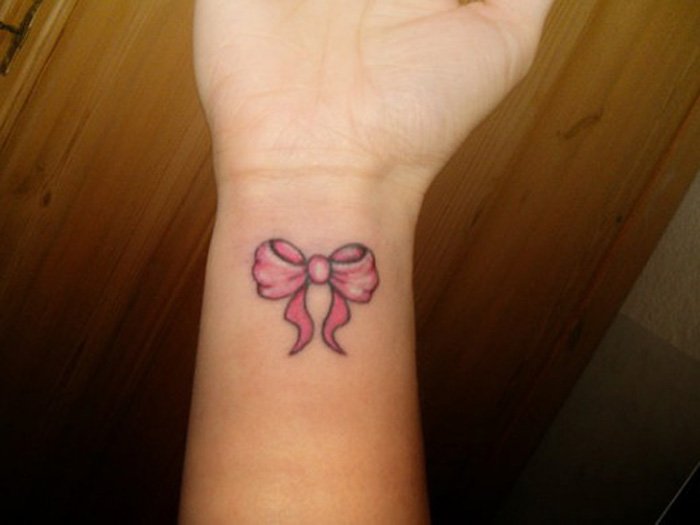 26. Tribal Wrist Tattoos:
Bring out your bold and edgy personality with some cool tribal wrist tattoos.
27. The Structured Heart:
A heart doesn't go wrong anywhere and it's the same in this case. Just lines and curves turning into a simple beautiful heart is amazing.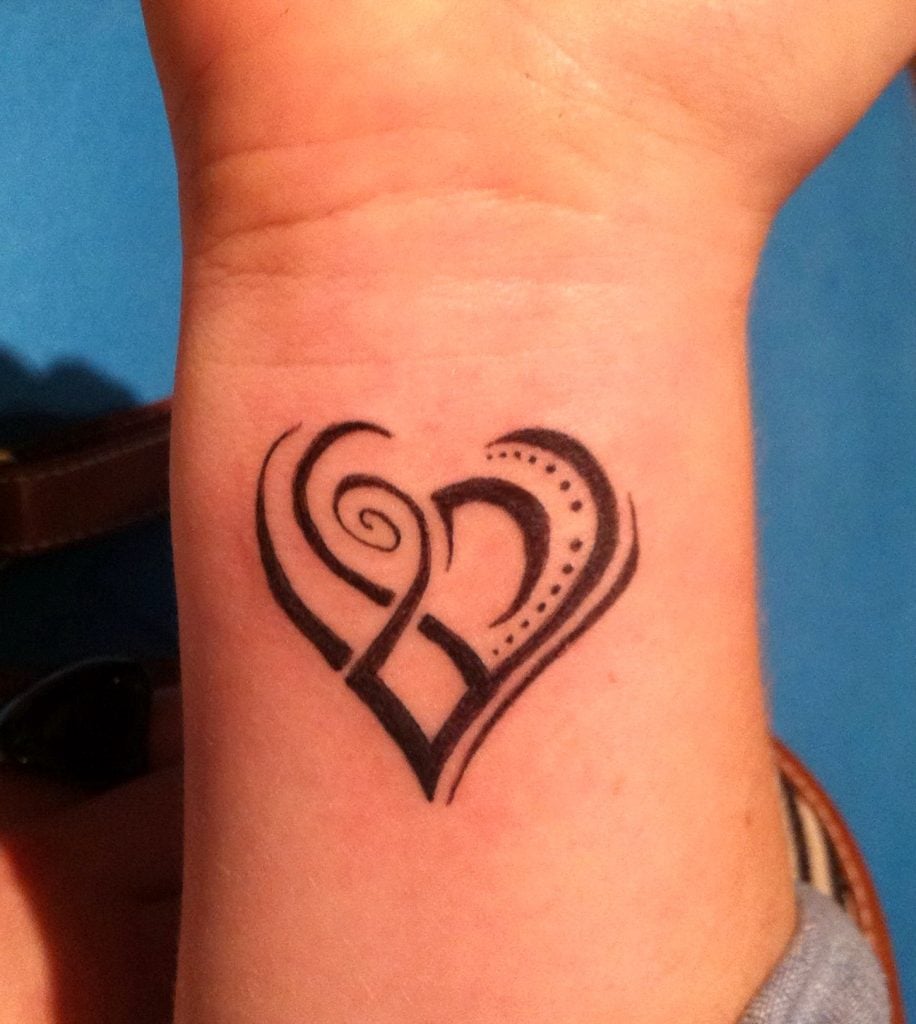 28. The Fire Within:
A very simple way to depict the soul as free and something that could aim for the skies. There's no limit it says.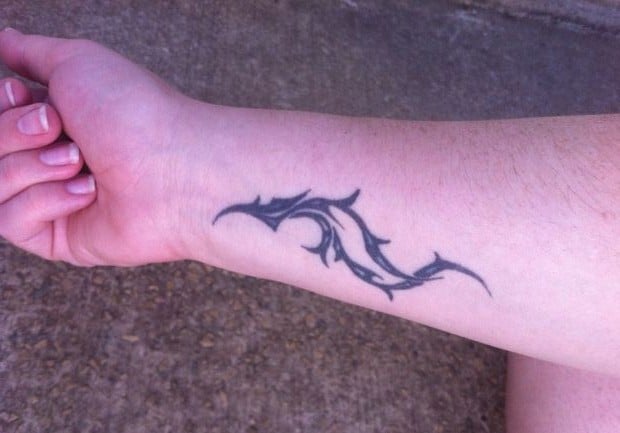 29. Butterfly Wrist Tattoos:
There are umpteen butterfly wrist tattoo designs that you can choose from – black and white, colorful, stencil, single-colored, etc.
30. Fly Away, Fly Away:
This pretty butterfly depicts what lies within you. A good soul that wants to be let free in all walks of life.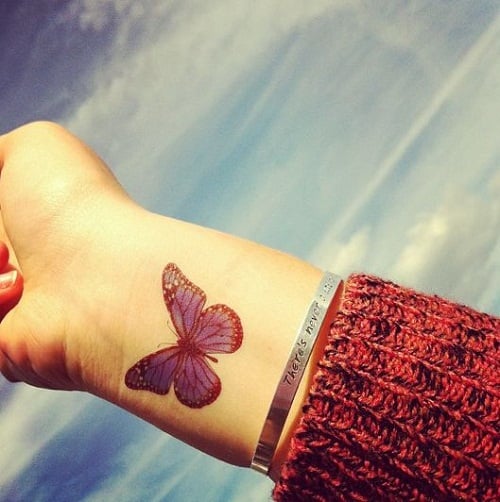 31. Flower Tattoos On Wrist:
Another popular design for which you will find thousands of inspiration is the flower design. If you love flowers, then we are sure you would be spoilt for choices.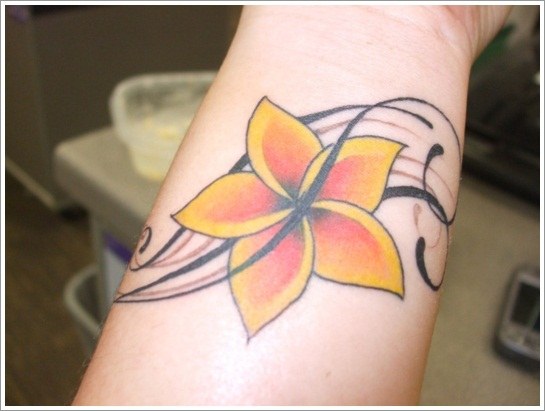 32. Tattoos For Girls On Wrists:
The below wrist tattoo design is ideal for young girls with a wanderlust soul.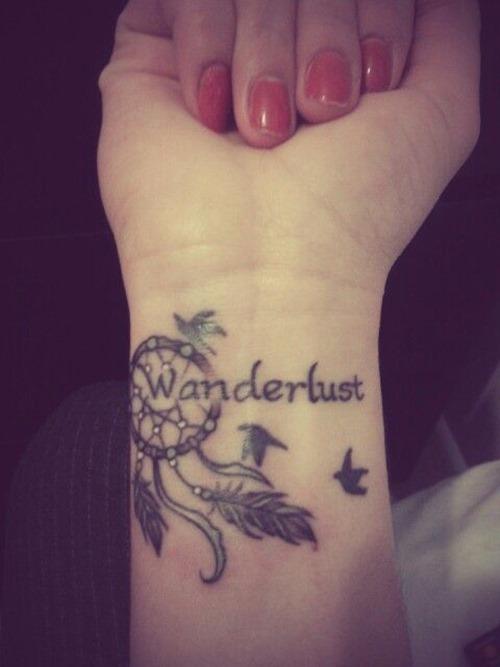 33. Rose Tattoos On Wrist:
Earlier in the post, we showed you a dainty rose tattoo on the wrist for the demure girl. Here is another kick-ass rose tattoo on the wrist design for the not so demure girl.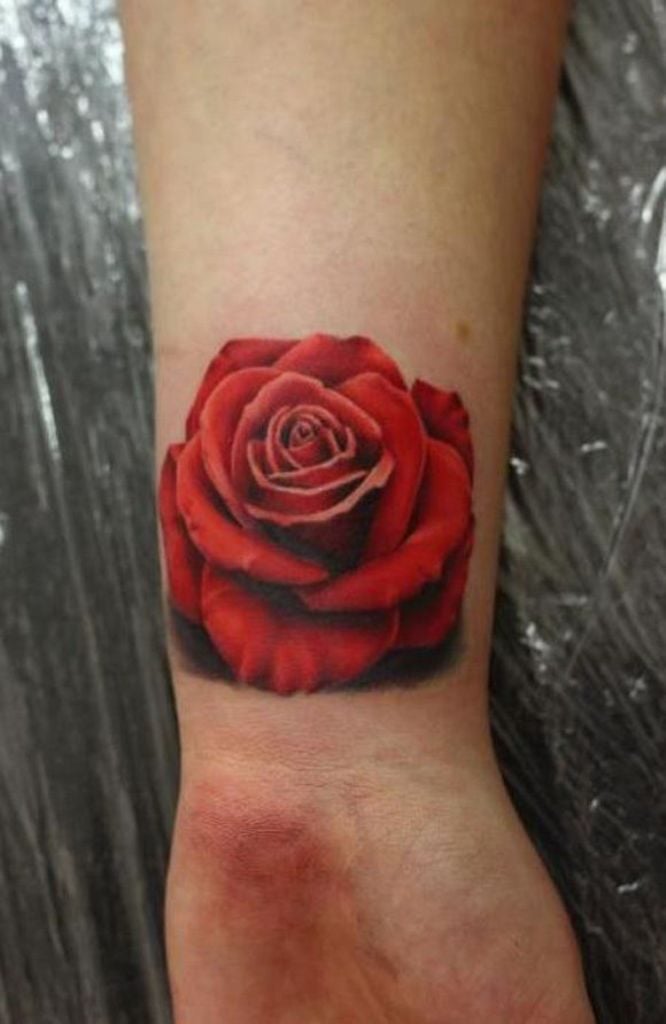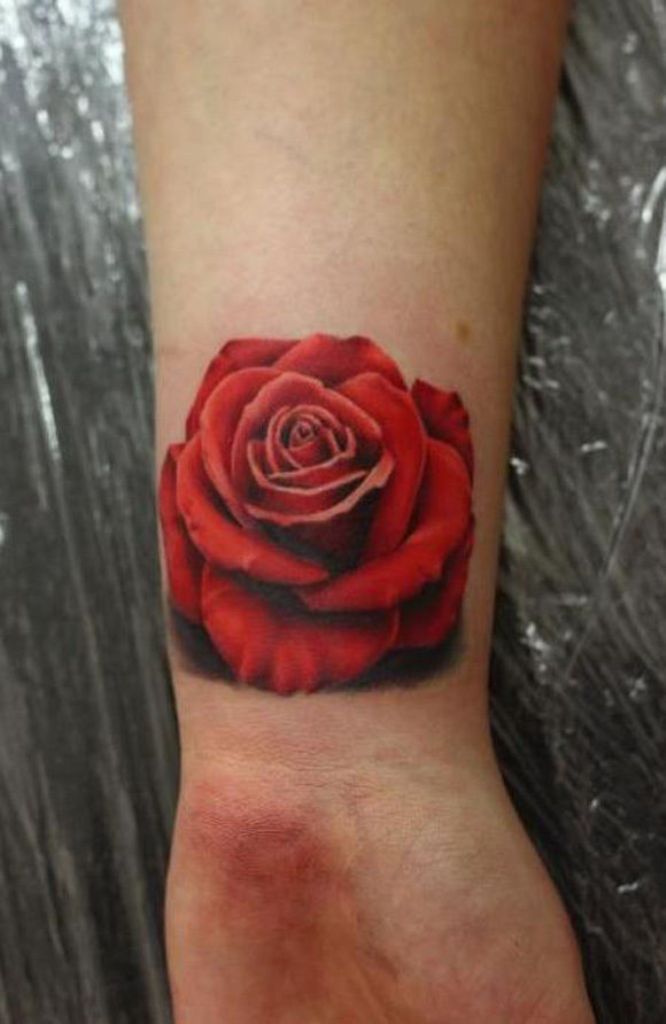 34. Inner Wrist Tattoos:
While going through the innumerable inner wrist tattoos, we found this elegant and simple dream catcher tattoo.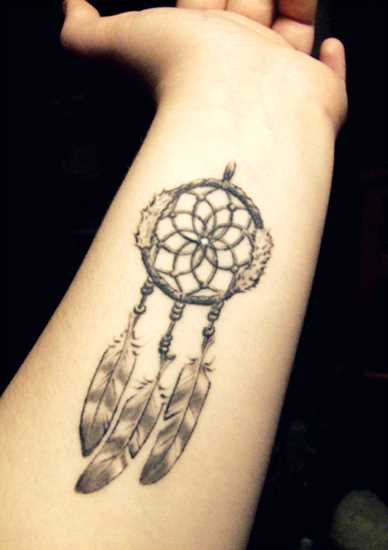 35. Bird Wrist Tattoos:
Though bird wrist tattoos are quite common, you can make your bird wrist tattoo unique by getting some inspiration from the below images.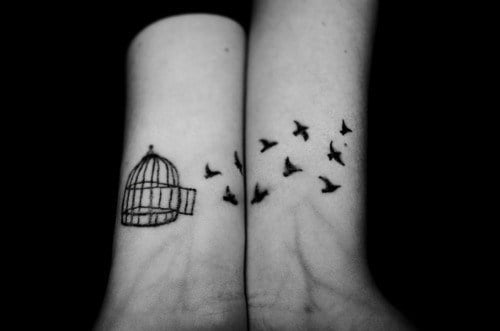 36. Love Birds: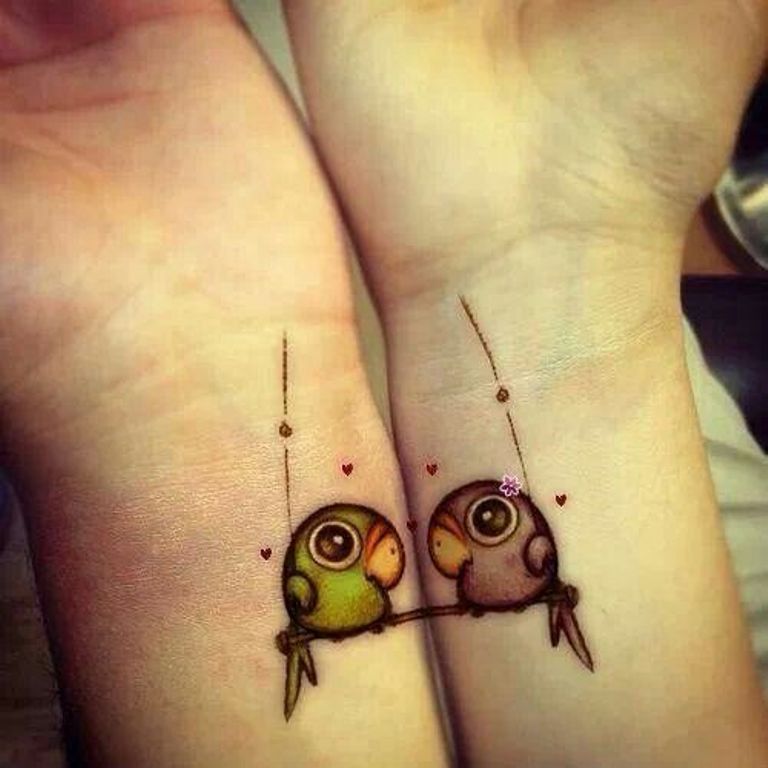 37. Heart Tattoos On Wrist:
A post on wrist tattoos would be incomplete without showcasing some amazing designs of heart tattoos on the wrist.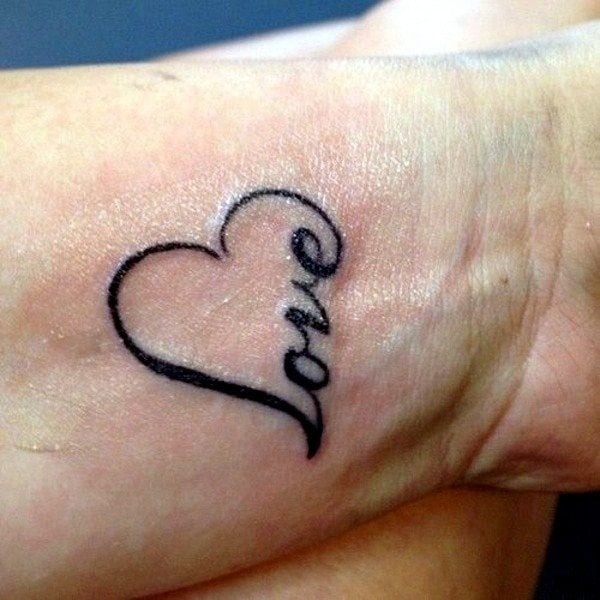 38. The Anchor to my Heart: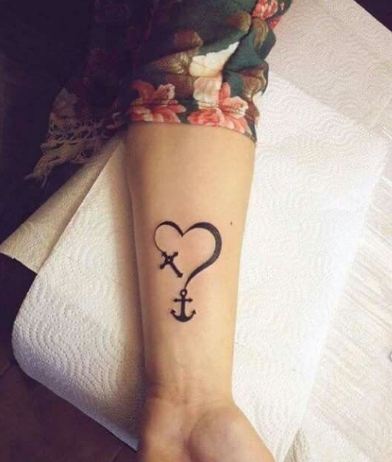 39. Unique Wrist Tattoos:
Check out some of the unique wrist tattoos that we came across. They are definitely inspiration-worthy.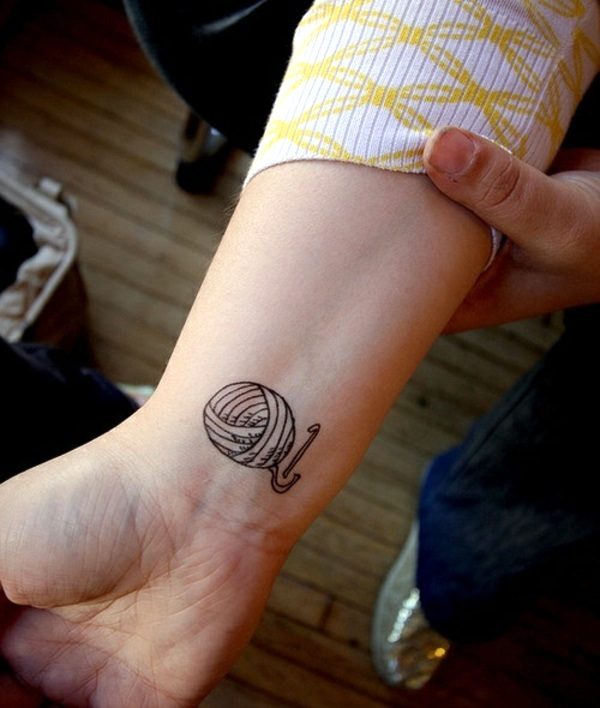 40. Flock Together: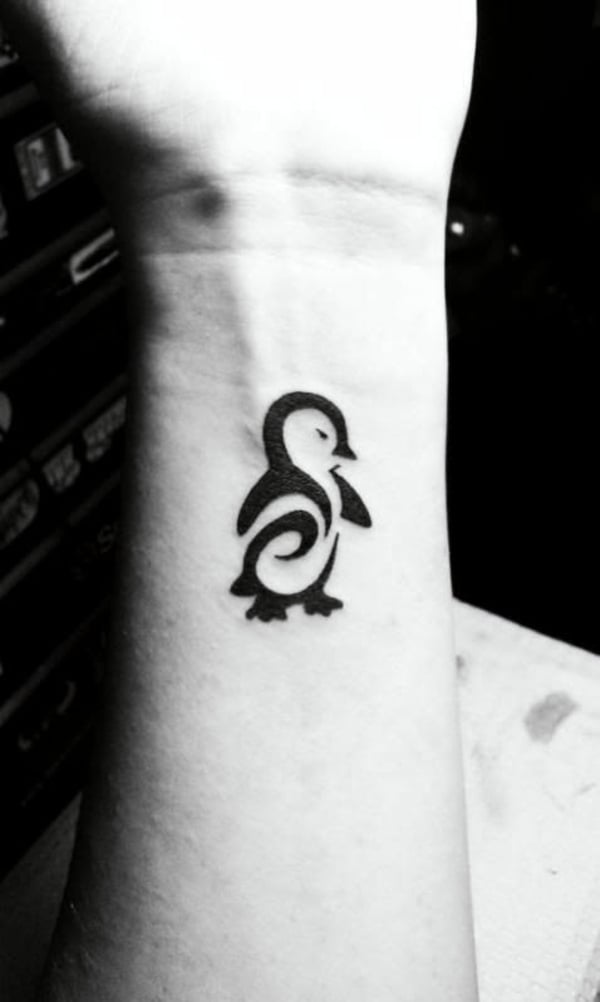 41. Name Tattoos On Wrists:
Name tattoos on wrists are adorable and rather than just getting the name inked, you can try different designs like combining it with the infinity symbol or hearts or writing it in your native language, etc.
42. No Bounds: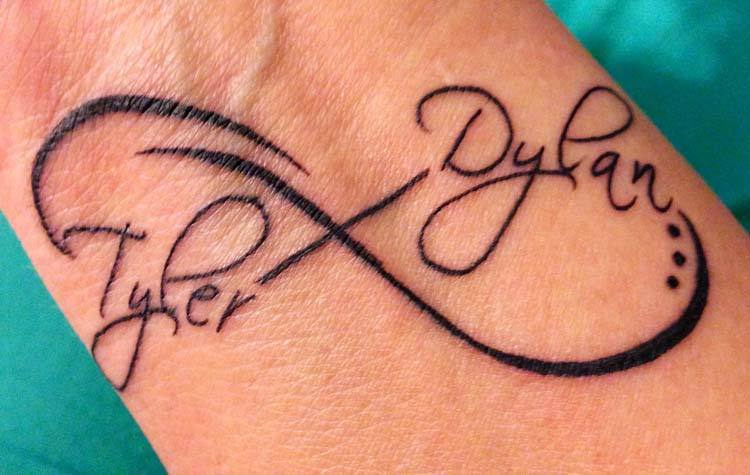 43. Religious Wrist Tattoos:
A religious wrist tattoo such as a cross would make a great design for outer wrist tattoos. You can also try out other religious symbols.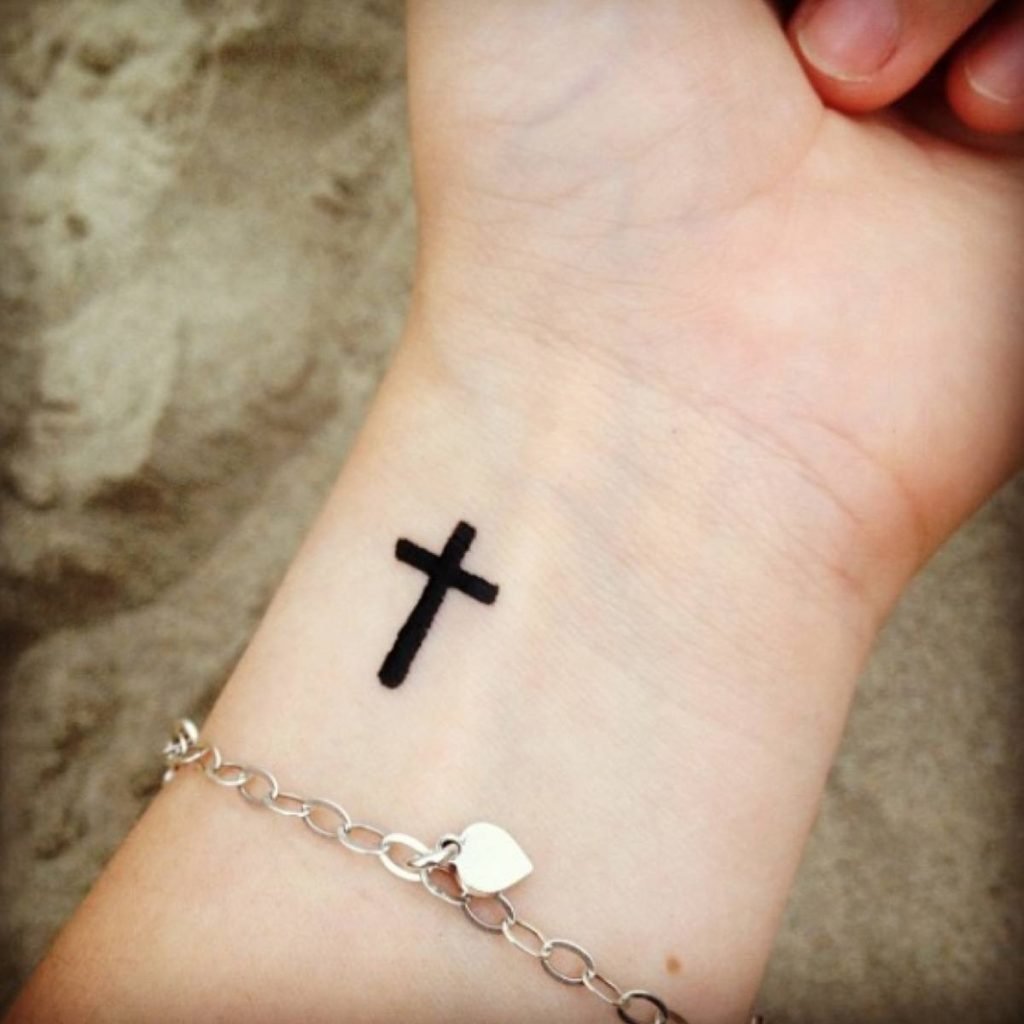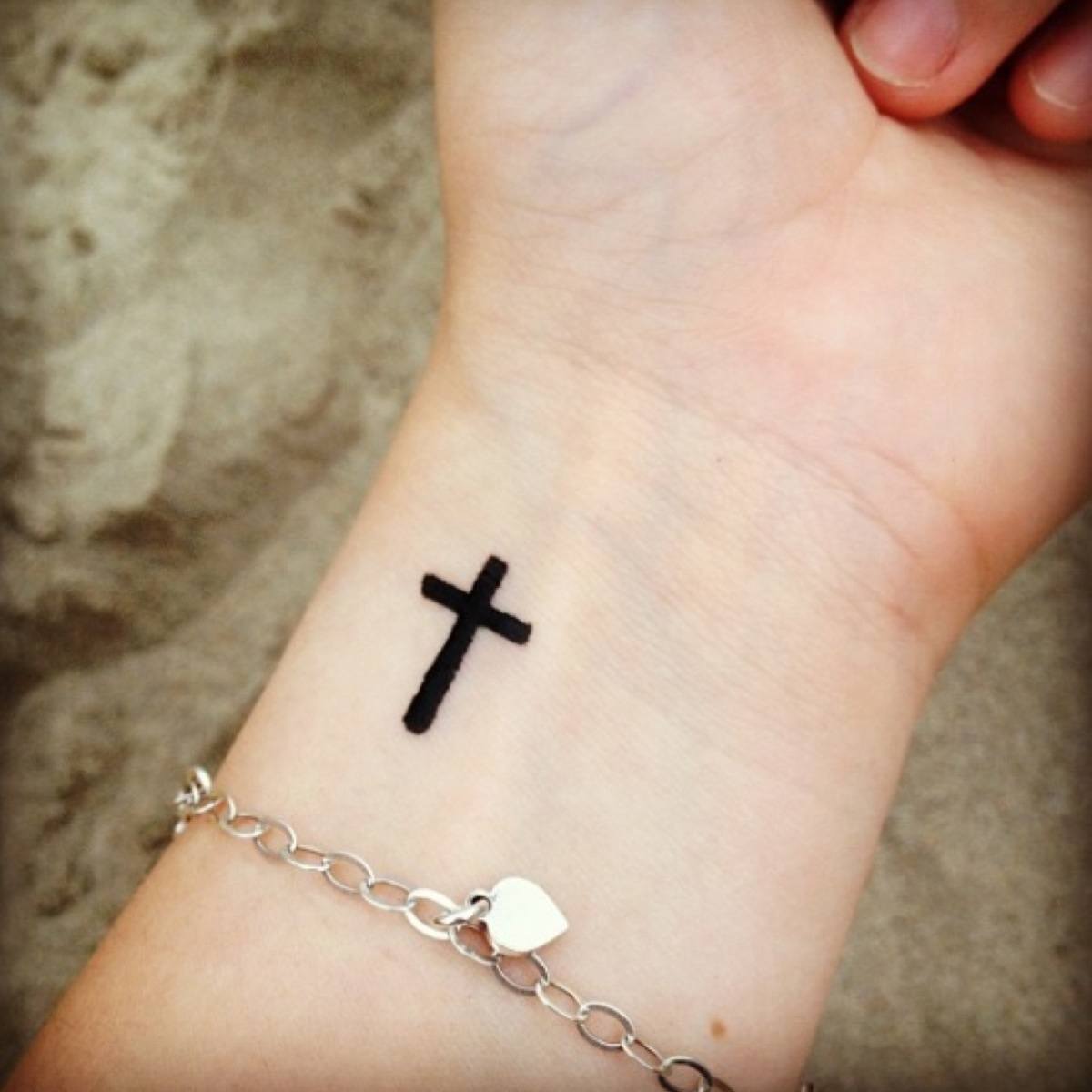 44. Bracelet Tattoos For Wrists:
Love bracelets but find them cumbersome while doing your day-to-day activities? Well, how about getting a bracelet wrist tattoo which will fulfill your desire of wearing a bracelet which is not only pretty but also won't hamper your daily activities.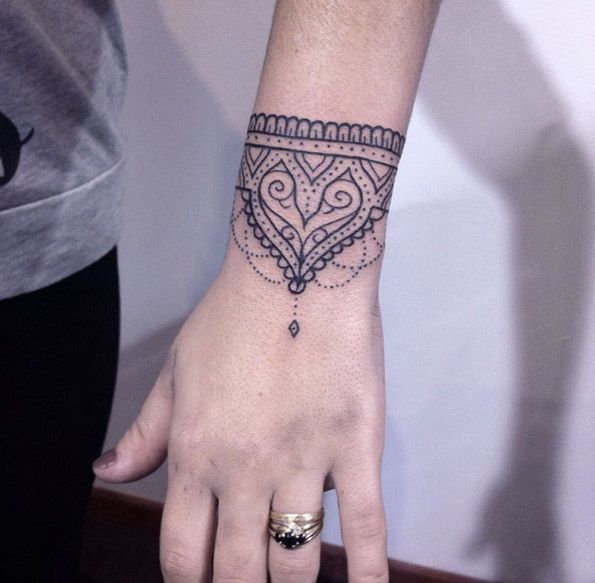 45. Japanese Wrist Tattoos:
You don't have to really learn Japanese to get a Japanese wrist tattoo. You could get your name or a motivational quote translated and inked on your wrist.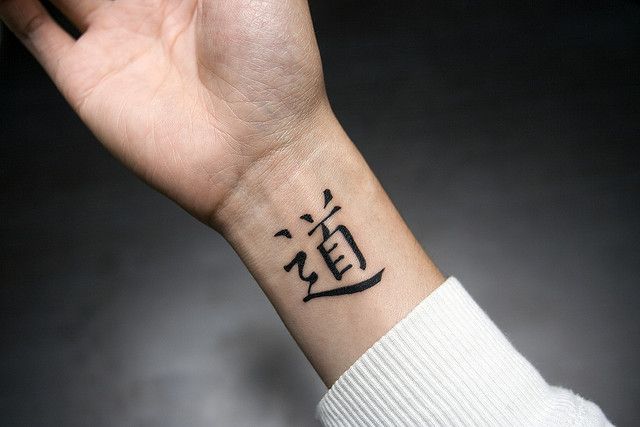 46. Small Star Tattoos On Wrist:
Check out the below images if you are on the lookout for small star tattoos on your wrist.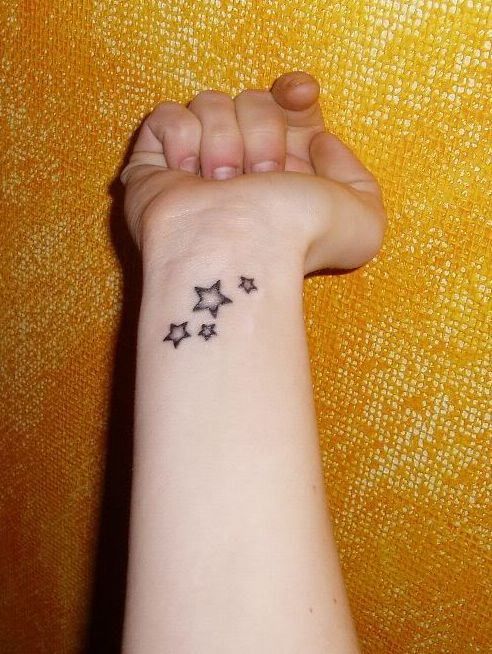 47.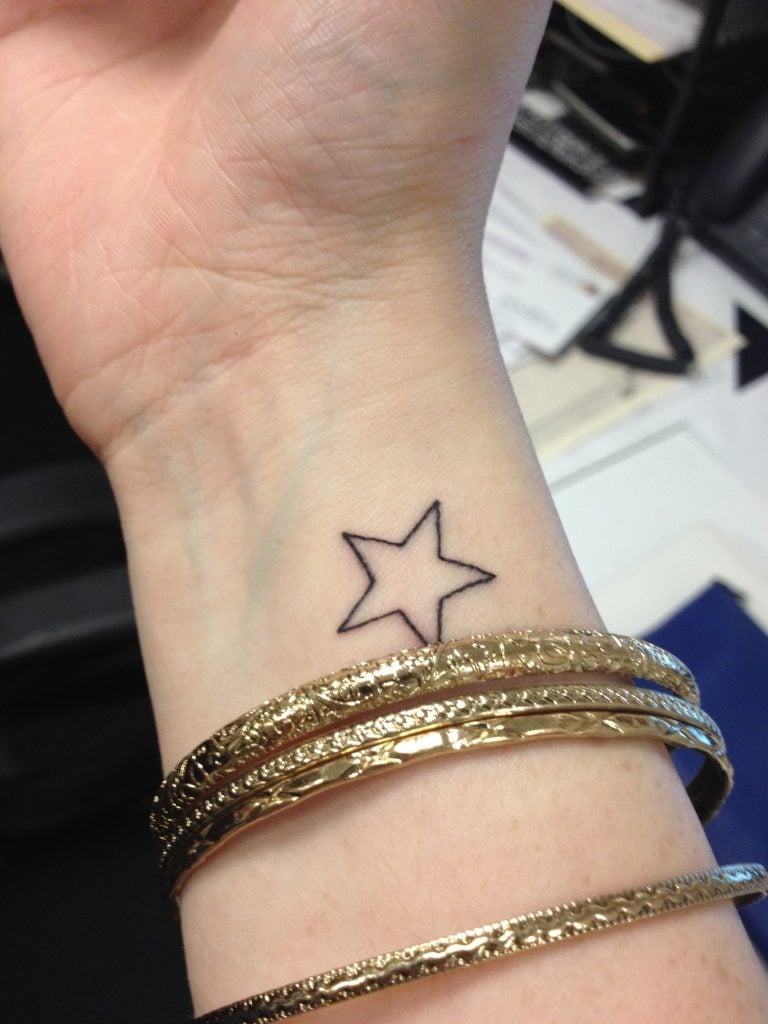 48. Upper Wrist Tattoos:
For a more elaborate design, you can get an upper wrist tattoo done.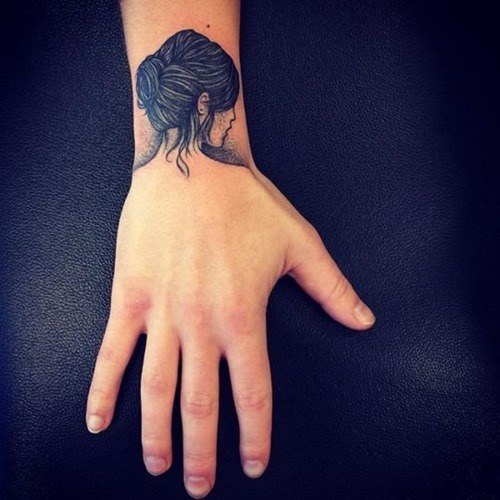 49.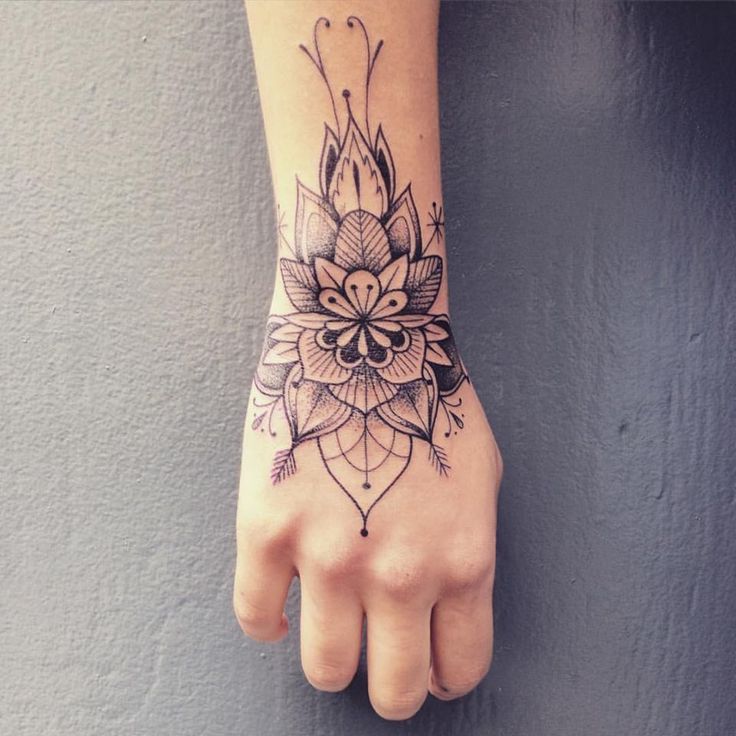 50. Mountain Time:
Wanna climb the "peak(s)" of a mountain? No formal training is required, just get your wrist inked!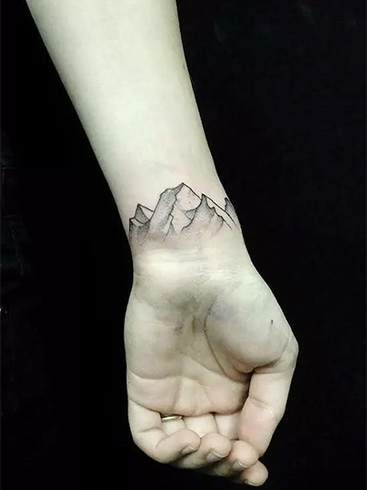 51. Swallows:
You have got to 'swallow' this. The wrist tattoo, I mean. The saying "birds of a feather flock together" is so true, don't you think?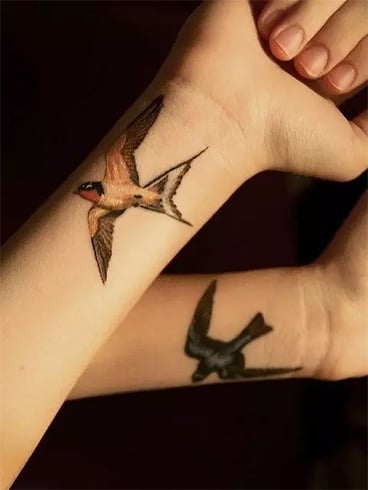 Tattoos For Girls On Hand:
Hand tattoos make a statement, with their style. Mostly covering the area of couple tattoos and tattoos that portray minimalism, these hand tattoos are a great deal. Hand tattoos could include cute ring tattoos on the fingers too.
52. Colorful Bow:
Of Bows and Tattoos! Well, this colored bow with a black outline and red/orange fill looks "super-duper" on the edge of the thumb.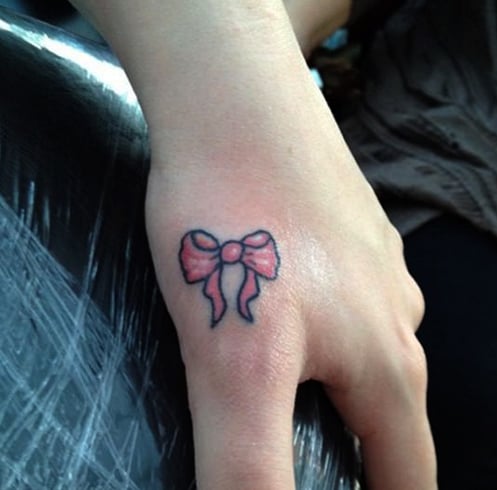 53. Flower Trick:
Don't you wish you could 'pluck' the tiny flower sitting pretty on the feminine hand? It is nature's bliss captured beautifully on hand! Sweet-n-fresh, it is, isn't it?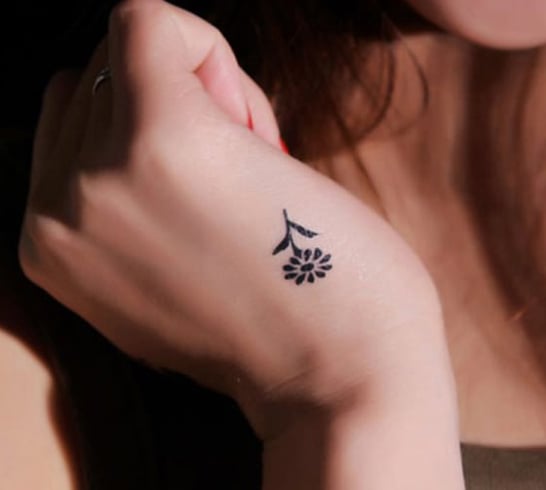 54. Single Letter:
Sometimes, simplicity makes a bold statement. Just one letter here, and look how it shines through on the arm. This might be an old-fashioned font, but is very powerful!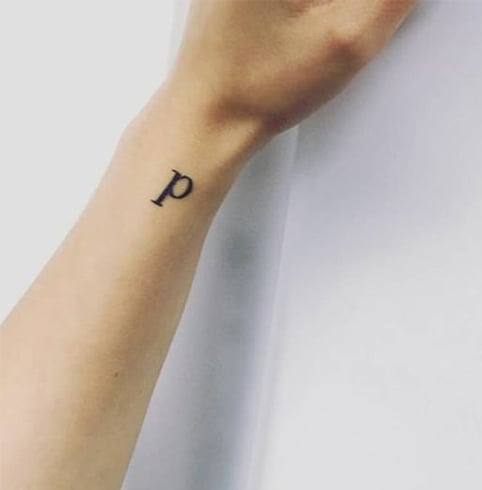 55. Pin It!
Do you know the best part about this simple and elegant-looking tattoo featuring a 'safety pin' on hand? The way it takes the shape of the hand is phenomenal! Well-thought-out and 10 on 10!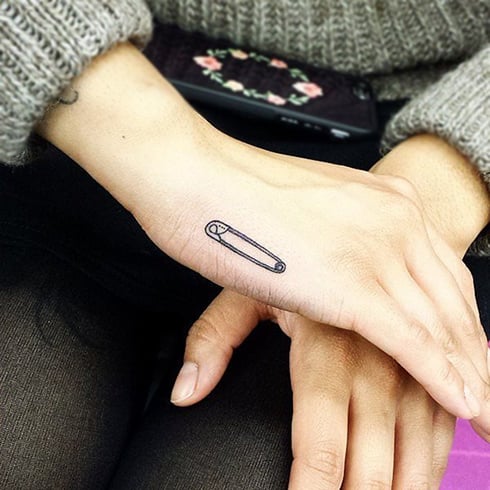 56. Black-n-White Bow:
This dotted bow looks so dainty, delicate, and feminine at the same time. Small but tasteful, it is.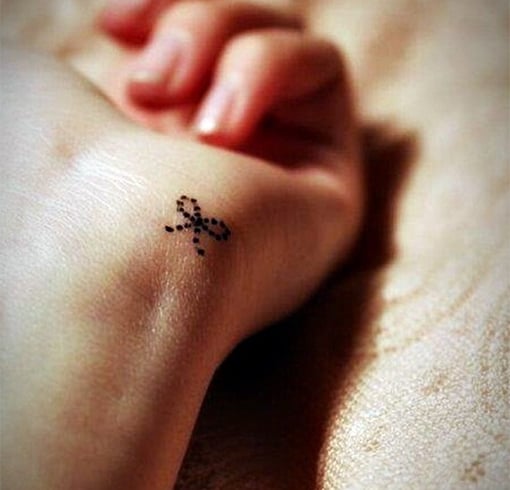 57. Anchor Replay:
There is an anchor, there is foliage- a big thumbs up to this tattoo on hand.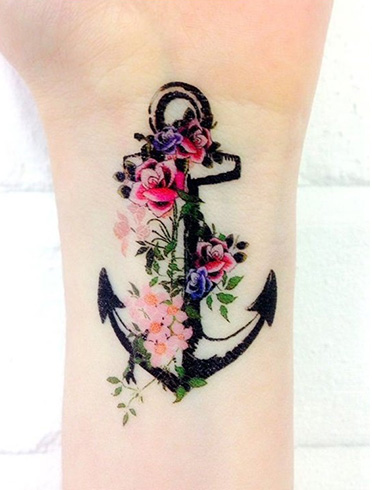 58. Mandala Flower:
Is this an artist's canvas? Gotta be! This Mandala flower hand tattoo for girls takes the concept of "depth" to new heights.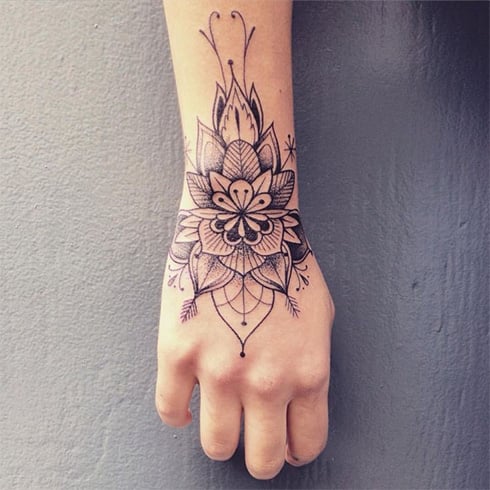 59. Sun & Moon:
Sun And Moon Tattoo in Black And Grey.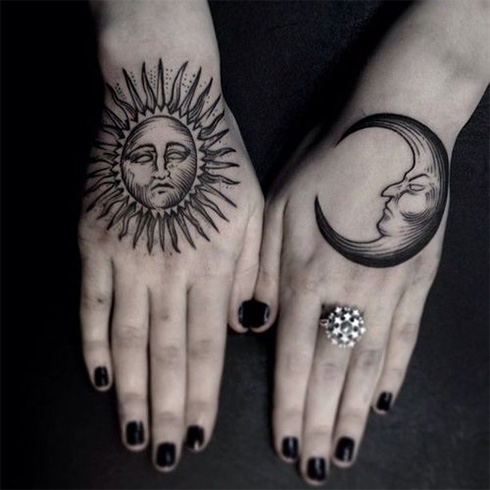 60. Tribal Tide:
The left hand with the tribal tattoo inking leaves much for the imagination.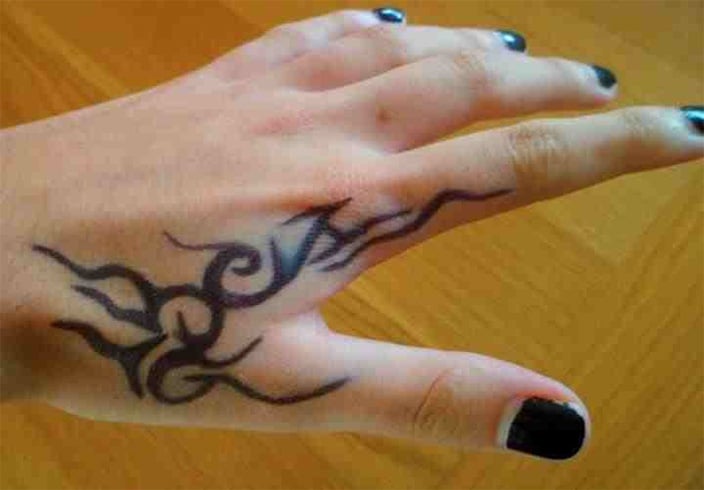 61. Bat:
There is nothing scary about the 'bat' outline tattoo on the girl's hand. In fact, it gives an abstract look.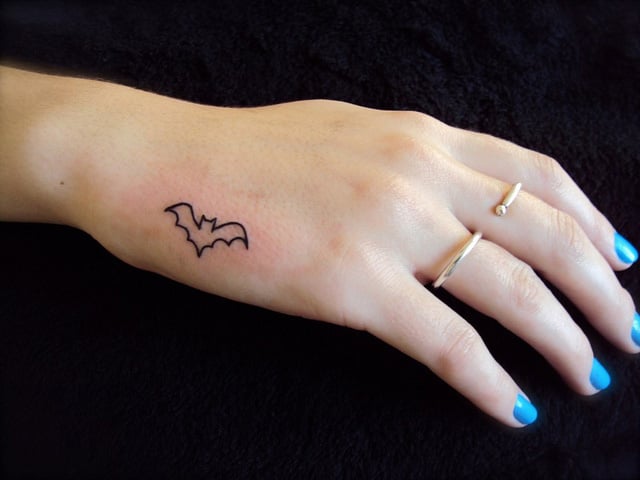 62. Sun and Moon:
Sun on the right thumb and the moon on the left thumb, looks like a planetary association of things.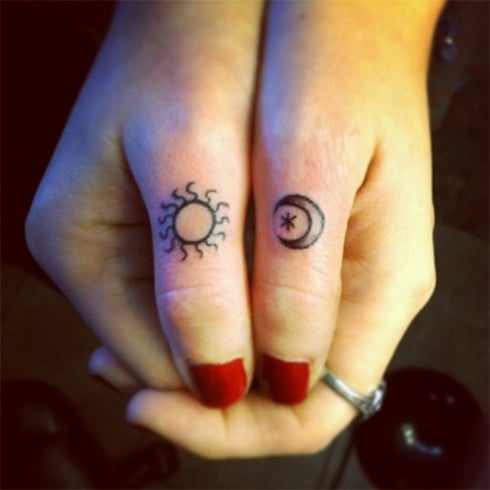 63. Tribal Trivia:
This kind of tribal tattoo on the hands gives such an awesome feeling.
64. Punctuation:
What's a semi-colon doing here? It's a novel tattoo, apt for the literature students.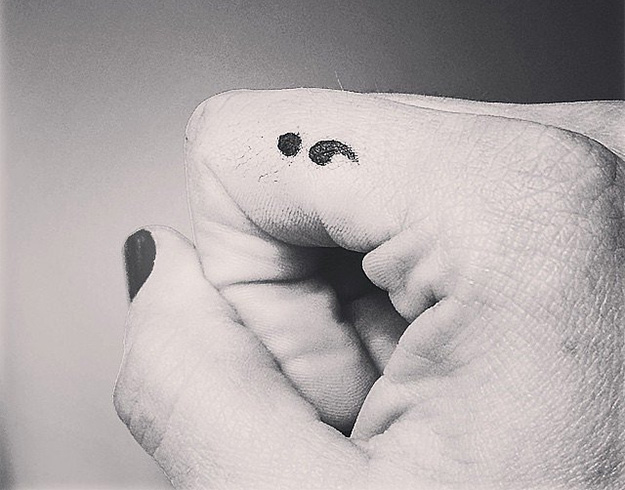 65. Cross:
Cross is Classic! The "cross tattoo" I mean. Great for women, in different professions.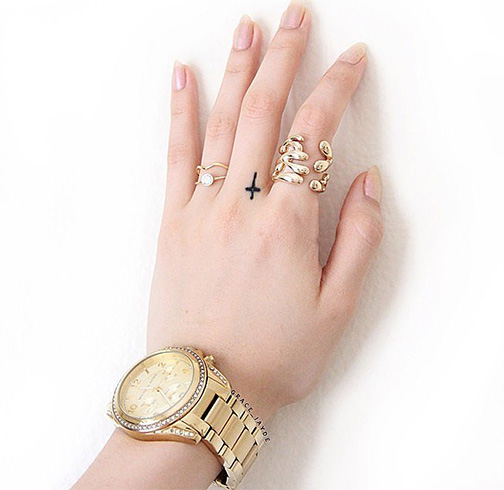 66. Flower Power:
Flowers could never look so beautiful this way. The fusion of color and black and white, running on the back of both hands is SUPERB!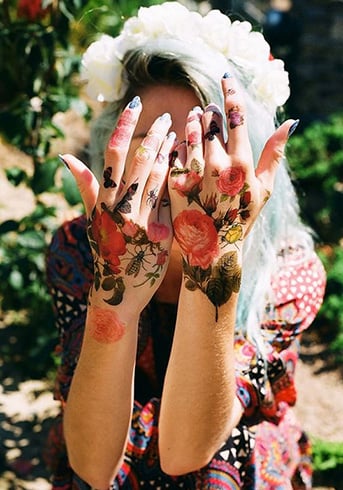 67. Book-ish Nature!
Are you an avid reader? Get a small and cute-looking book inked on your hand, or on your finger…who knows you could be the next author.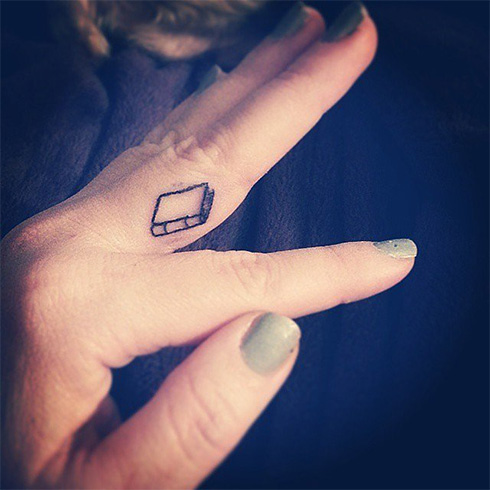 68. Father-Daughter:
This is a beautiful tattoo. All about bonding between a father and a daughter! No matter the terrain or the moment, this will stay close to your heart.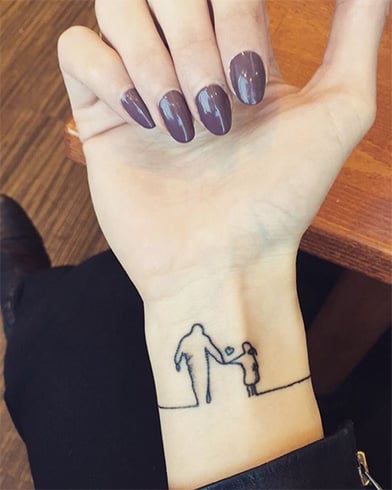 69. Leaf Vein:
Mind you, this is a henna tattoo, running from the fingers to the hands. Such a feminine and dynamic pattern it is, it will bring joy to the most boring of hands.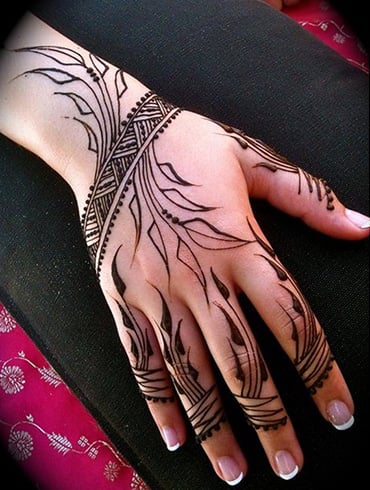 70. Wolfy:
Can you hear the wolf scream? Even in the absence of a jungle background, this wolf tattoo on the hand cannot be missed!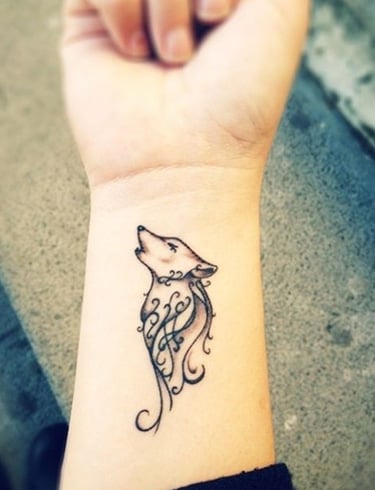 Tattoos for Girls On Shoulder:
Shoulder tattoos for girls look incredibly trendy as they add to the glamour and oomph quotient of the individual. So ink up your shoulder with these super cool designs shown below. They are sure to keep you happy and satisfied, only to come back for more.
71. Shoulder Blade Tattoo:
Delicate shoulder or delicate tattoo? Both actually. The tattoo is so simple and understated, and oh-so-feminine, won't you want to keep staring (no ogling please) at it?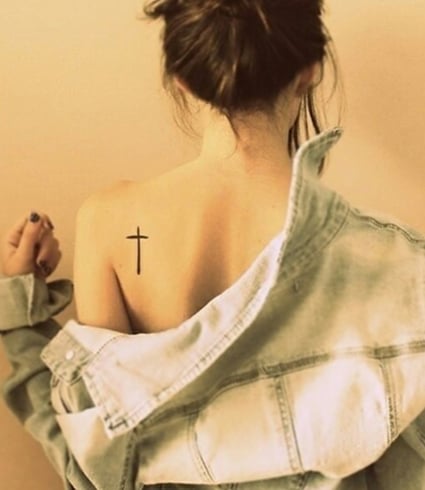 72. Rose Delight:
What's a medium-sized flower doing on the shoulder blade? Creating a ladylike statement. This tattoo goes well when you are dressed in off-shoulder or tops with straps.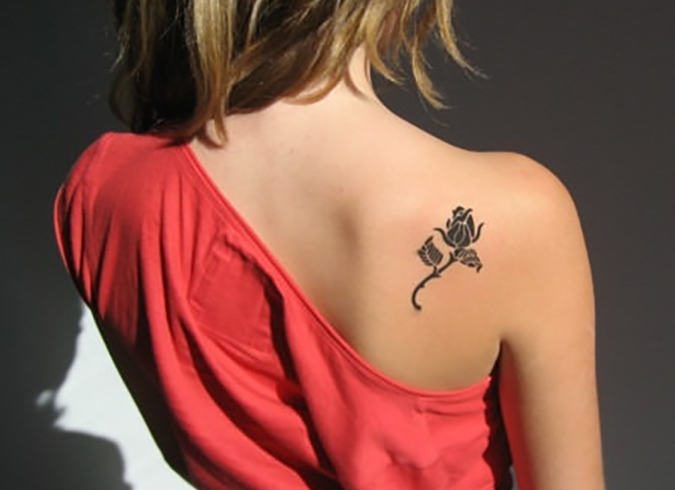 73. Floral Back:
Why hide your shoulder back when there is a pretty damsel with her prettier flower-like tattoo inked on her back? The subtlety shown in the color of the petal steals the show.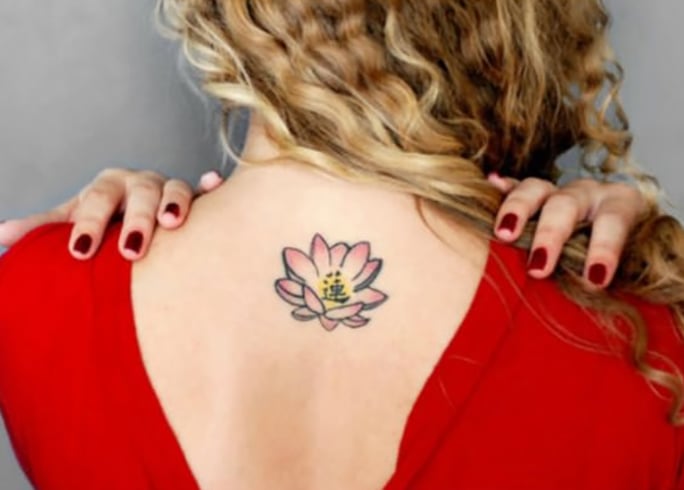 74. Birdsy-Love:
And you thought only humans can get coochie cooey? The birds in this shoulder tattoo will prove it otherwise.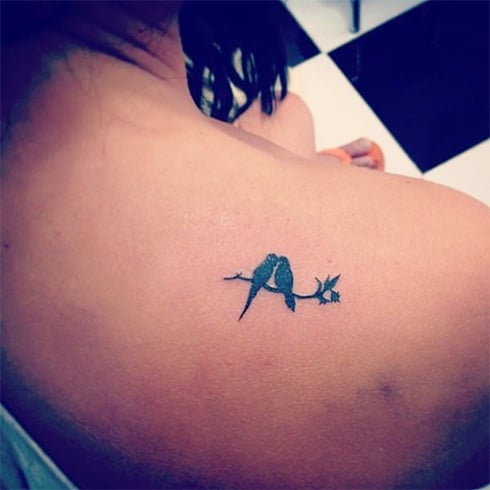 75. Meet-me-in-the-heavens:
Written in "Script" text, this shoulder tattoo is a heavenly one, with loads of attitude.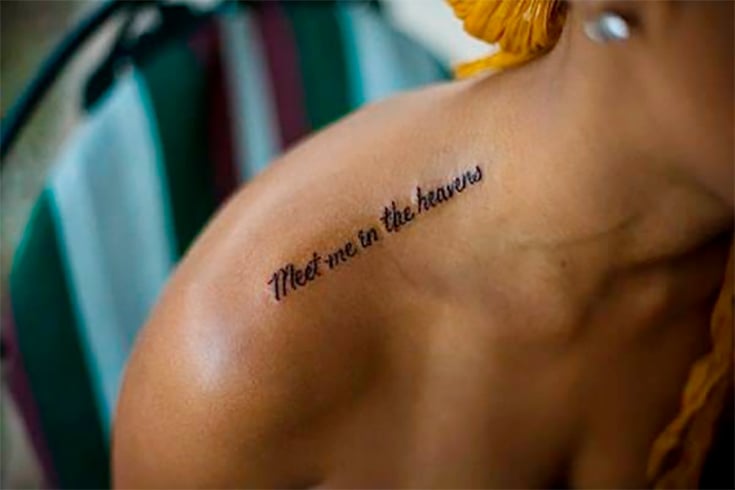 76. Sketch Style:
Watch the lady's shoulder, not for the shoulder part, but for the beautiful floral design done in sketch style.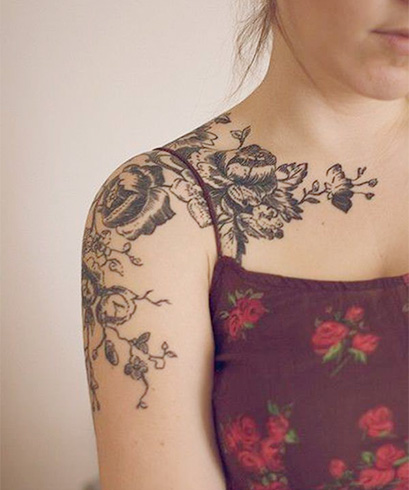 77. Flower Mania:
Flowers it seems to fascinate the young ladies too much! Hope you agree?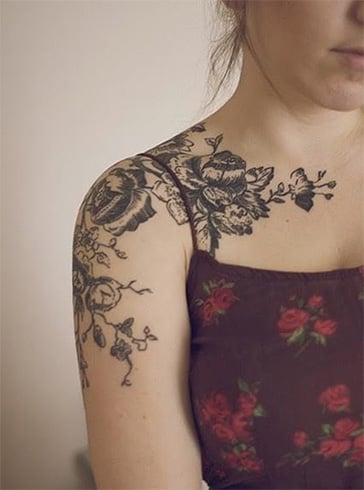 78. Eagle Tale:
With such an intricately done-up eagle on the shoulder, it is time you got the eagle.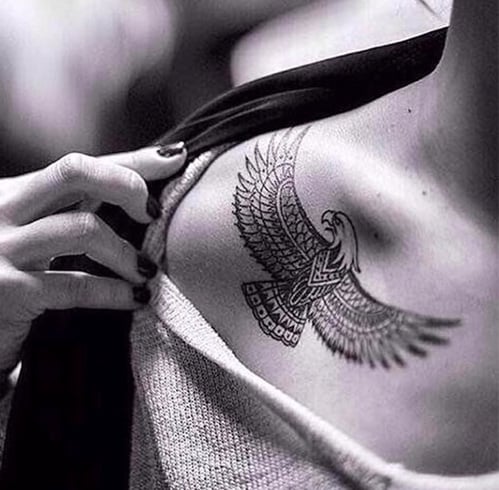 79. Minimalism:
Tiny tattoo has its ways. And the pic shown amply proves that.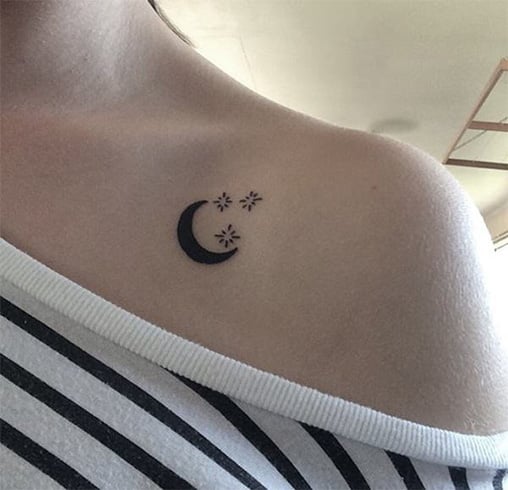 80. Sunflower:
Hey, sunflower just started to blossom in this bright-and-colorful tattoo on the shoulder.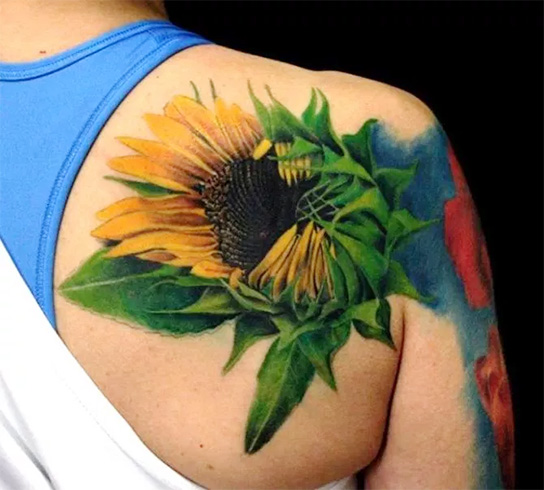 81. Snow-lover:
When was the last time you loved the snow? You ought to now! Thanks to this snow-of-a-ball shoulder tattoo.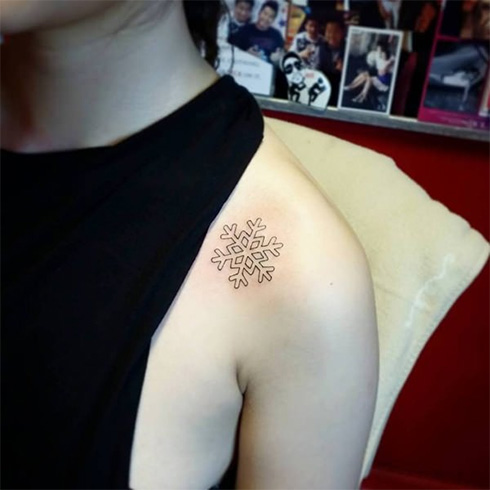 82. Mandala Time:
A mandala tattoo on the shoulder could give you serious beauty goals!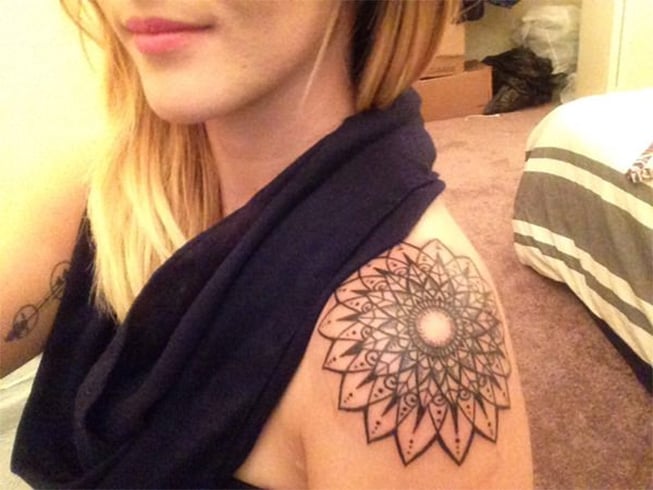 83. Flying Sparrows:
Sparrows going in a particular direction are a good way to tell you – stay focused!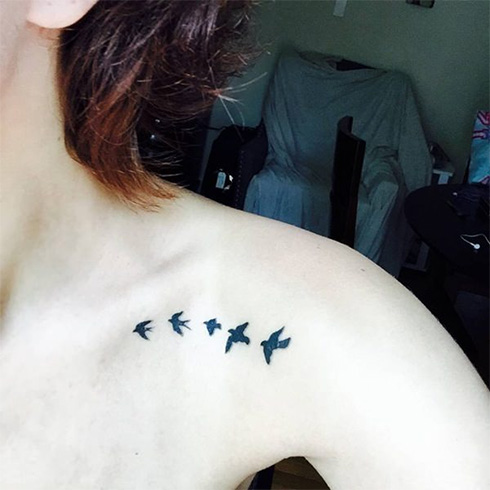 84. Fern:
What's the fern doing across the shoulder? It's beautiful and comes across as a nice color gradient.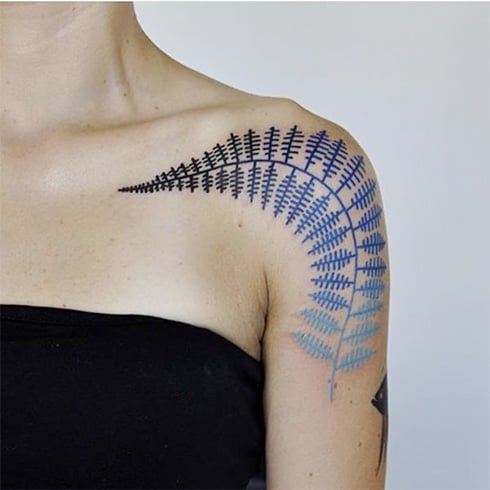 Tattoos For Girls With Meaning:
There are tattoos that don't need to express themselves in words, but their pictorial description itself speaks volumes. These are the kind of tattoos that are being preferred in the new age, and you can derive your own meaning out of it. A personal bond is established.
85. Butterflies:
A butterfly is an insect that conveys beauty, metamorphosis, rebirth, and most importantly, change. The Japanese are of the belief that a butterfly stands for someone's soul.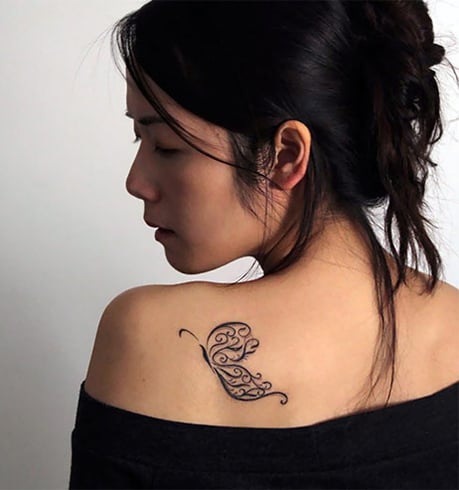 86. Om:
'Om' is a powerful symbol in the Hindu religion which stands for a "source of life" in the whole universe itself.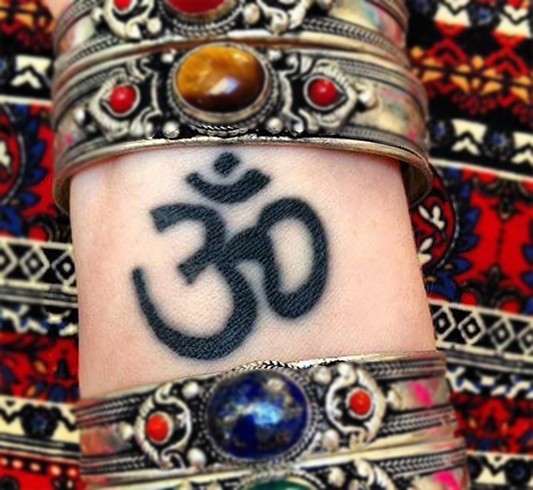 87. Malin:
Originated in Sweden, the Malin symbol seems like an infinity symbol, containing arrows in the middle. It also means: be prepared to face setbacks in life to be able to move ahead.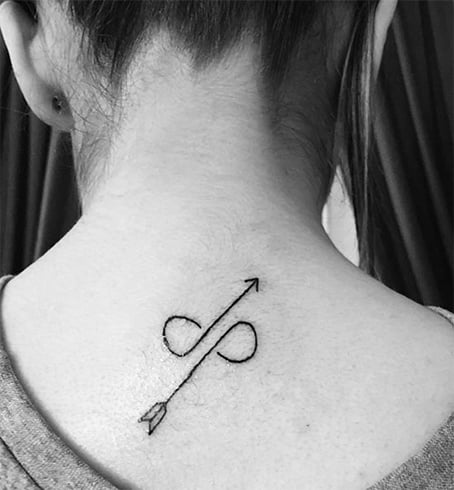 88. Crowning Glory:
Not all crowns are won on the battlefield. This cute small crown tattoo on the finger symbolizes a 'winning streak'.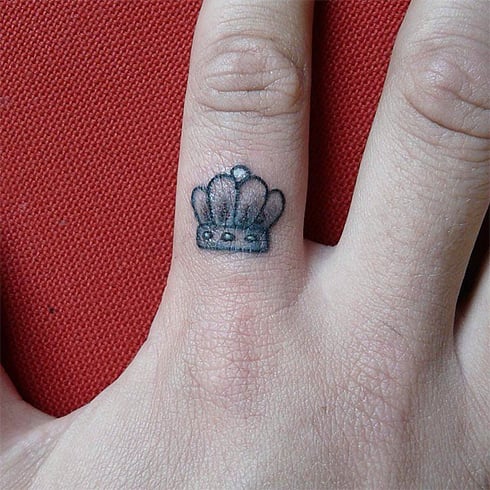 89. Get Lucky:
This 4-leaf flower tattoo means 'lucky'. If you are in for some serious luck, then go for this tat.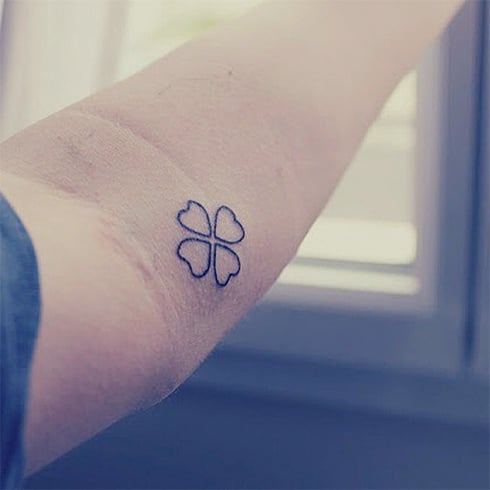 Tattoos For Girls Quotes:
Every person has at least one quote that they can connect to on a personal level and this is what urges them to get it tattooed. Girls' quotes are more on the lines of being an independent soul to being a woman of inspiration. Every quote has so much to say, and so much motivation to give with every glance at it.
90. Heaven:
Read the quote inked on the foot of the lady – "Heaven is a place on Earth with you". More than the quote, it is the cursive script writing which makes this tattoo simple and elegant.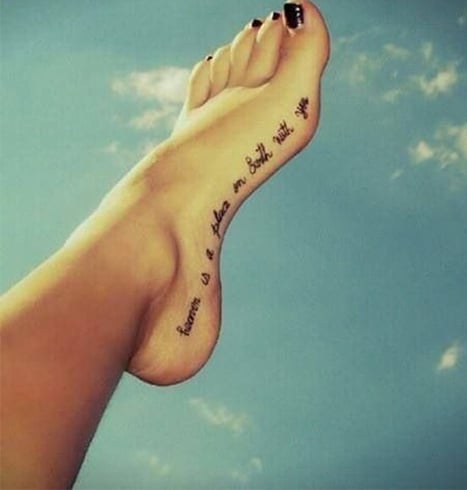 91. EHFAR:
Know what this tattoo means? Um, I have an answer. EHFAR stands for "Everything happens for a reason". That's an awesome quote we all have said many times in our lifetime already.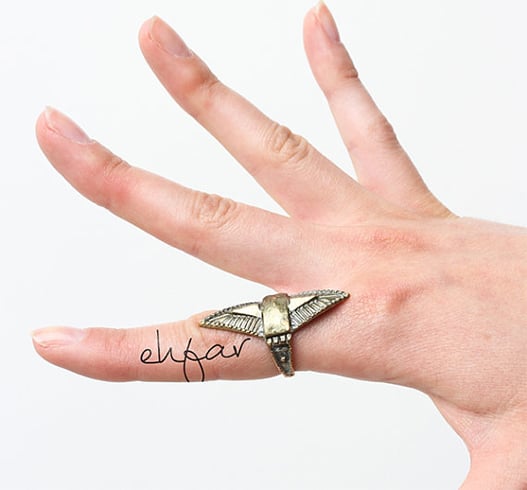 92. Enough:
There are many ways of saying "enough" – for eg. "I am good enough", "I am smart enough". Your choice matters!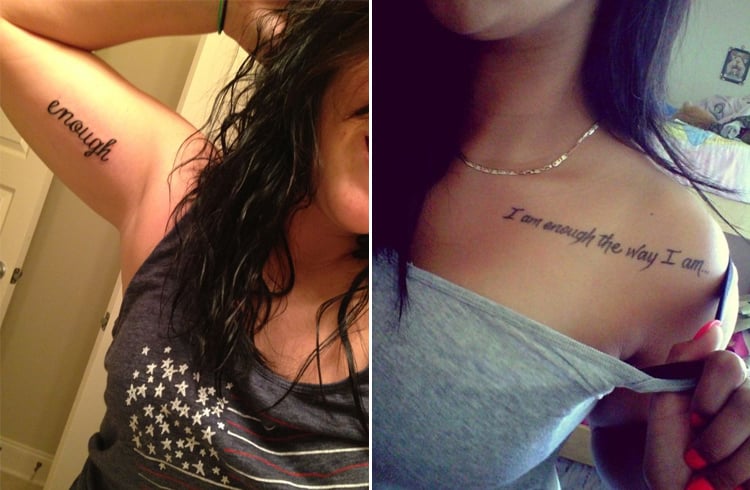 93. Viking:
Guess the meaning of this Viking symbol? It means "Where there's a will, there's away." Isn't it motivating?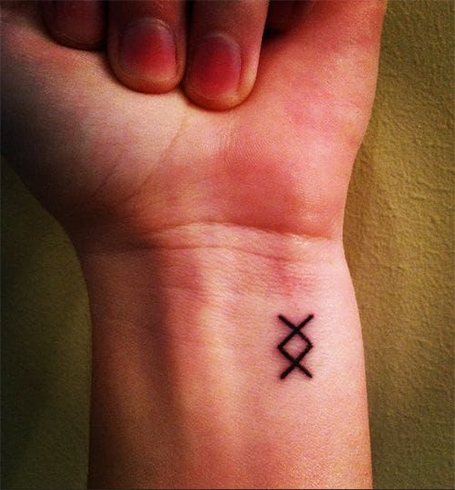 94. Love And All That:
Forgot to "love yourself"? You shouldn't. It is a terrible habit of not being able to do that. Loving yourself should come to you as an instinct.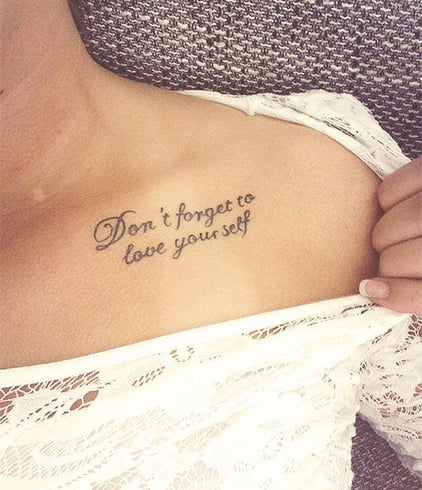 Tattoos For Girls On Foot:
Foot Tattoos are becoming increasingly popular with age, as they can range anywhere from a random floral design to a profound meaning hidden. The foot tattoos can look very striking when barefoot or with footwear that doesn't cover the feet entirely.
95. Wordy Part:
Getting words or phrases inked on the foot is a matter of choice. Many Hollywood stars are getting it done, as a reminder of strength and forgiveness.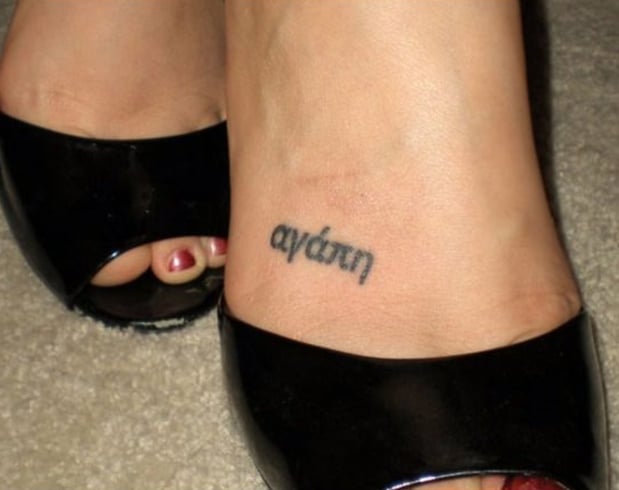 96. Ankle Adventure:
Make your ankle look as 'cool' as you by going for this twosome tattoo – butterfly on one ankle and a cross-and-chain on the other. Gives you a feeling of toughness and power. Hot pink heels give it a 'killer' look.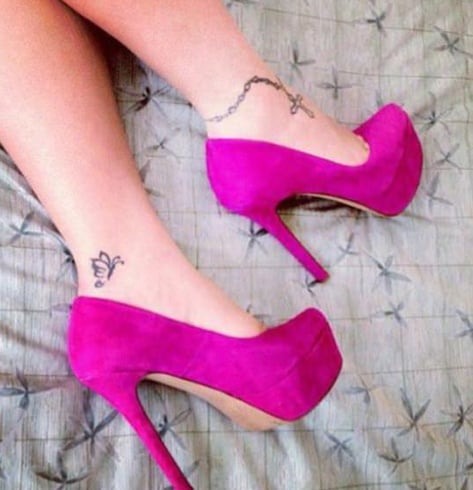 97. Butter-fly Cult:
Catch the sight of the delicate-looking butterfly 'inked' on your foot. Simple and bold lines make a great piece of art.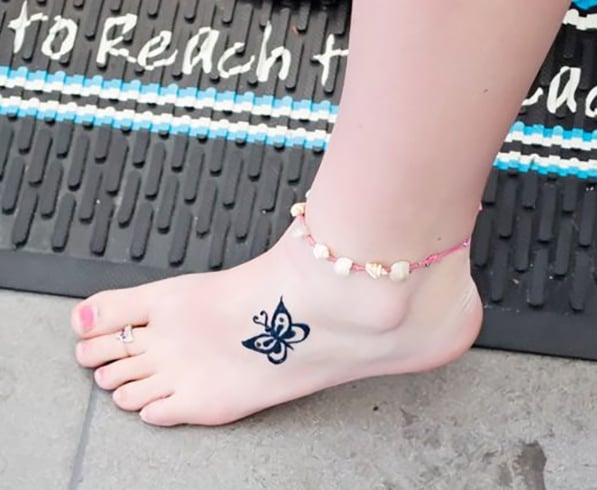 98. Footsy Play:
This is an unusual 'word play' on the back of the foot. But it looks super-cool or hot, whichever. The bold text and its positioning on the back of the ankle is just perfect!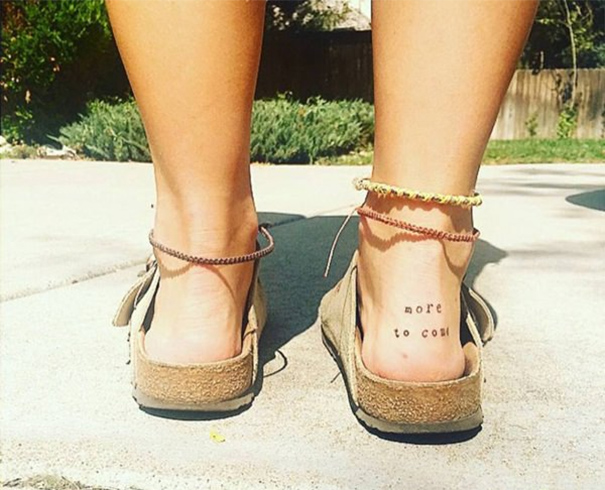 99. Robin-hood:
What's this cute-looking "robin" doing here? It has been fascinatingly inked! Totally adorable, pretty, and colorful.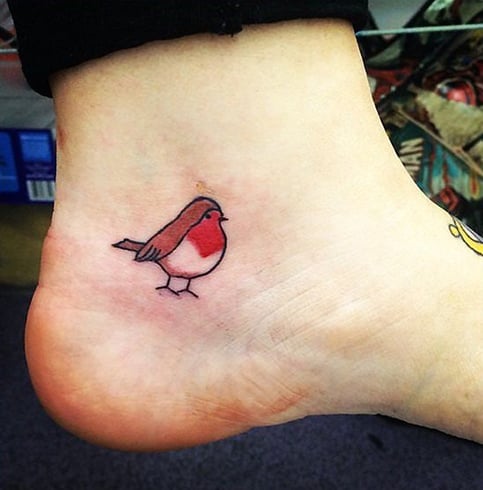 100. Paw-please!
Little foot paw print tattoo, sweet and impressive. So neatly done, that you will sit up and take note of it!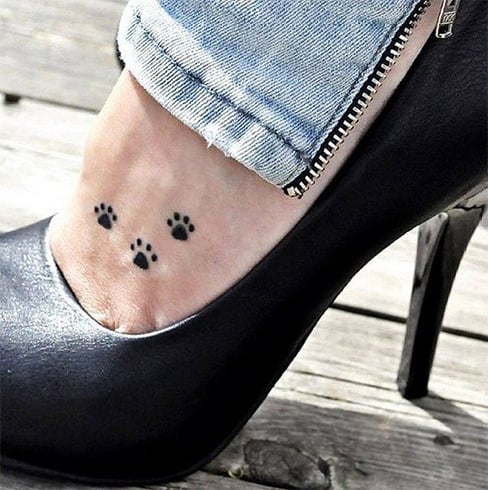 101. Owl Tattoo:
What's an owl doing over the female foot? I suppose, adding some style and flair.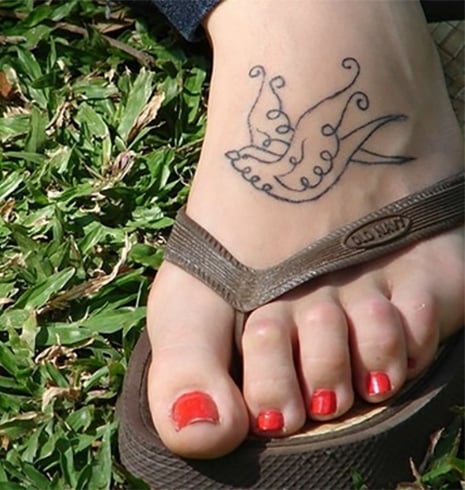 102. Jeweled Show:
All set for a formal do? Put on your best attire, but when it comes to the foot, no harm in getting jewels on the foot (As shown).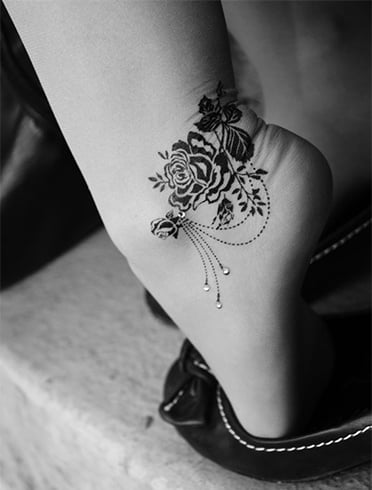 103. Ankle Tale:
Now, these are cute-looking and unfussy ankle tattoos. Simple going symbols and a bit artistic!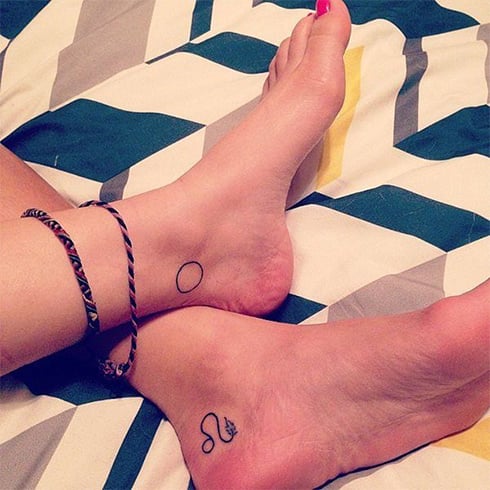 104. Heart-on-Foot:
Love finds its way and this feet tattoo showing a heart is perfectly matched with the long pencil heels. Way to go, babe!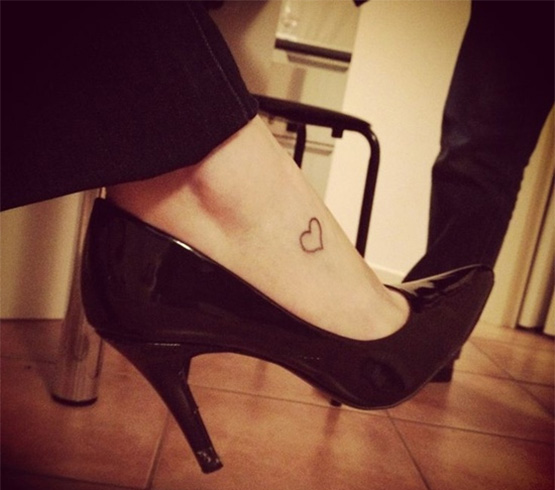 105. Floral Footprint:
Strap on your bellies or buckle up, you can't escape the beauty of this floral tattoo. With a bit of color added, this tattoo would surely make your foot look like a grapevine.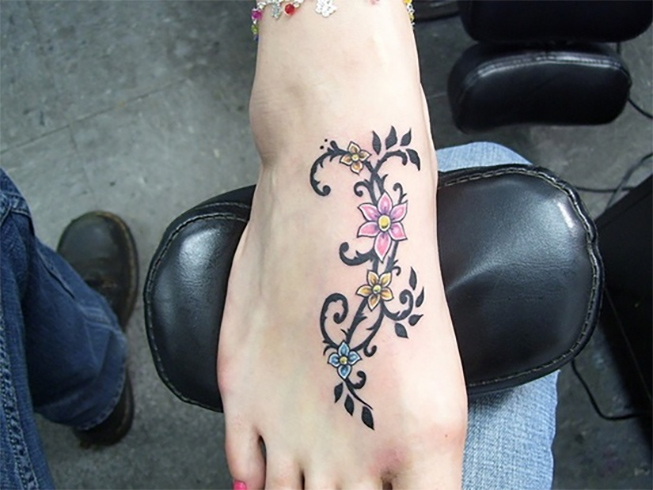 106. Mountain Tall:
Striking and unique, the unusual placement and the amazing detail, mountains look so new and dainty when inked on foot, don't they?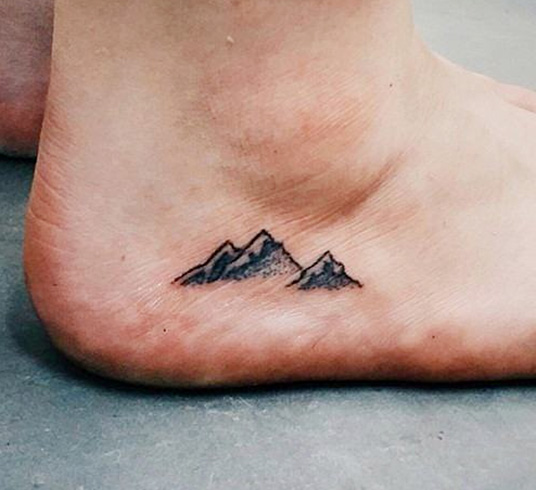 107. Birdie-I-Am:
Talk of the most popular foot tattoos for girls? The bird! It is far from clichéd or overdone and is just apt for the girl who aims to reach the sky.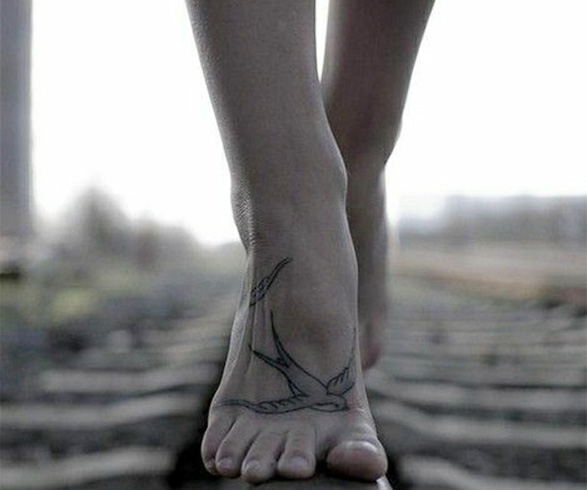 108. Peacock Adventure:
Seeing a Peacock, what comes to mind is beauty and intricacy. This unique peacock tattoo design on the toe incorporates lovely swirls and shapes.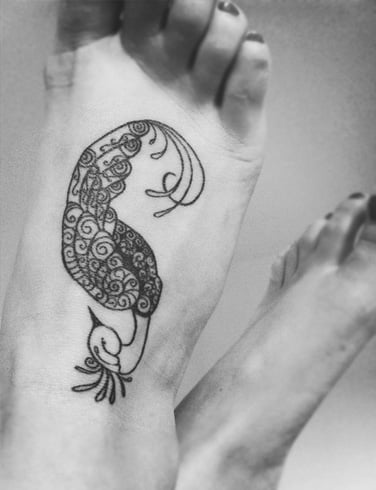 109. Love-It:
The word "Love" – has been so artistically (and romantically) etched on foot as a tattoo. This unique typeface looks like an infinity symbol.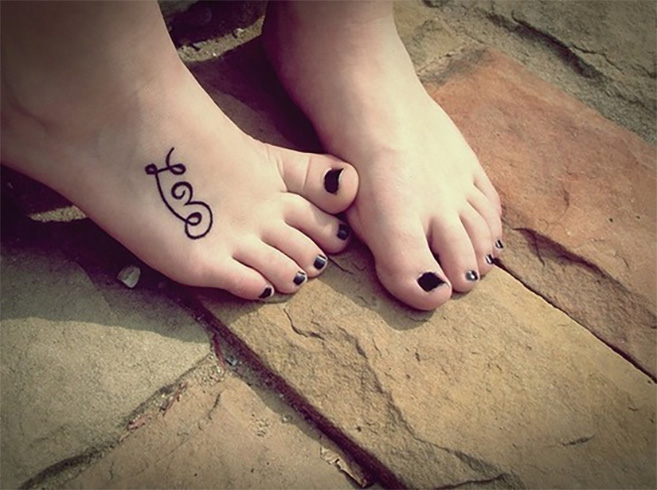 110. Feather Fern:
Different patterns such as leopard print and a beehive beautifully describe the feather fern. Pretty intricate!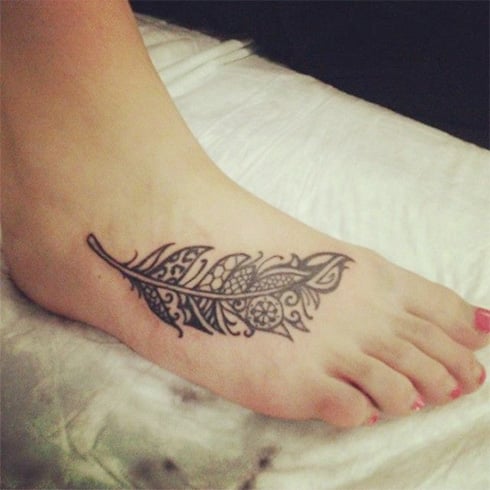 111. Anklet-style Tattoo:
Presenting an anklet-style tattoo "band" with a feather. Even though bands were not so popular, they still make great-looking tattoos.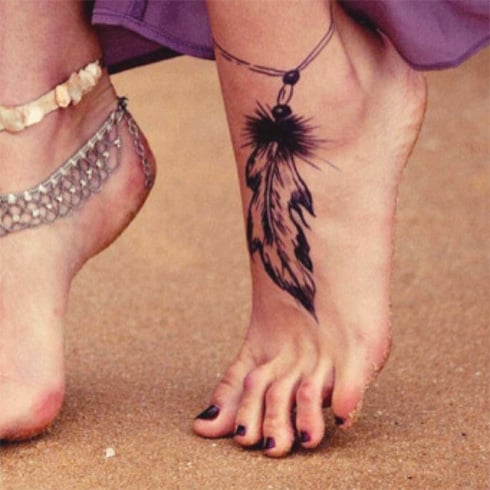 112. Bird-Time:
How cool is this bird tattoo? The use of pinks and greens, and then the matching toenail color which matches with the green on the birds' wings; isn't it a work of artistry?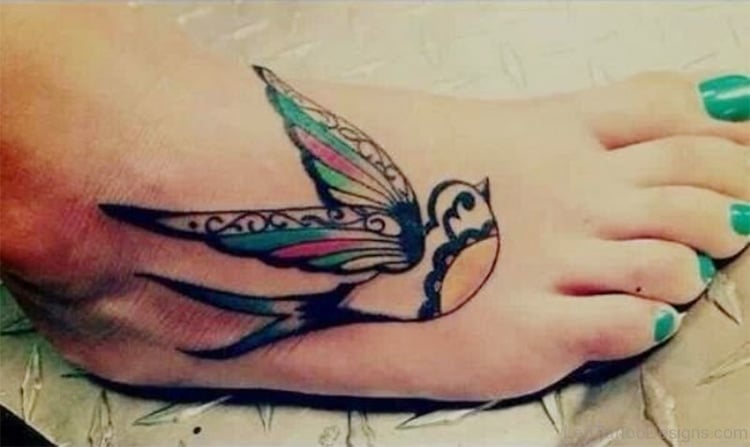 113. 'Batty' Affair:
What a contrast! Bats filled in on the left foot and non-filled in on the right. Either way, it comes up as a cool tattoo design.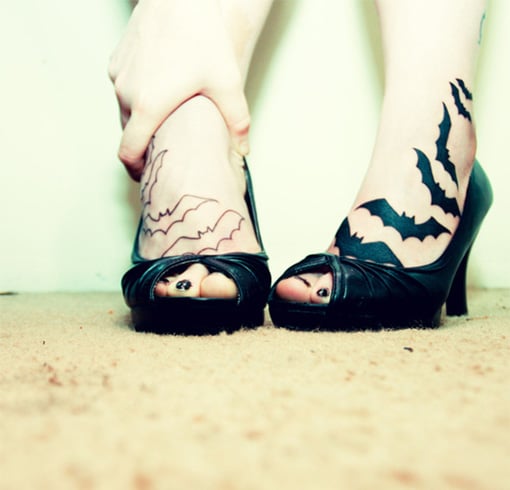 114. Anchor IT:
Whoa! This cool anchor tattooed just below the ankle could be your next defining statement.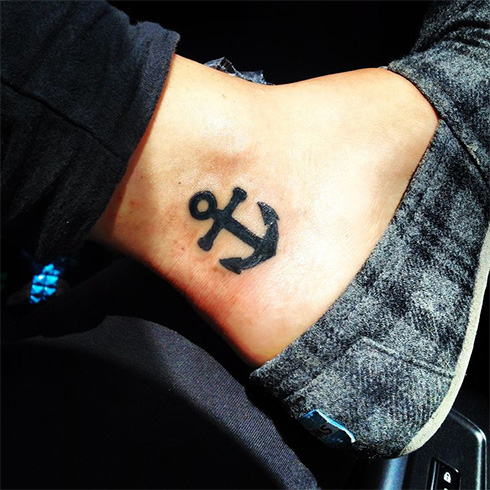 Tattoos For Girls On Neck:
Most tattoos inked on the neck are of small dimensions due to the limited area. These neck tattoos are super cute and can give a bold outlook. Preferably people with such tattoos either need to have very short hair or tie up their hair often, for the good purpose of the tattoo to be shown.
115. Red Heart:
Hearts are supposedly red (bloody red). But this heart-shaped tattoo at the base of the hairline is so attractive and romantic, any man would fall for "it" (and the girl, as well). The red colouring of the heart is super!!!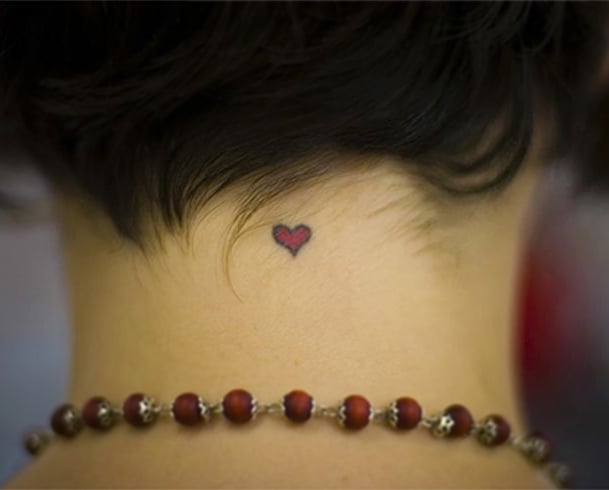 116. Bold-n-Delicate:
What's not to love in this beautiful abstract design? It borders between the neck and chest, so you can call it 50-50 magic!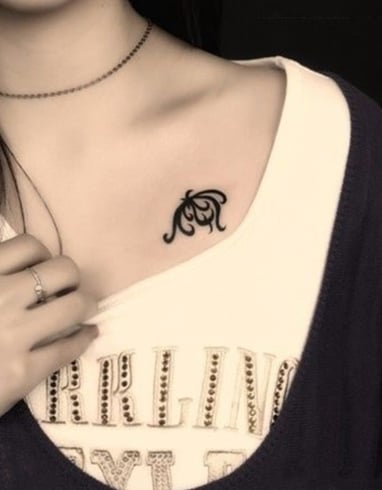 117. Sweet-n-Colorful:
Yeah, this tattoo with a touch of color is a borderline case between "neck" and "chest". But no harm in appreciating something that catches your eye and is here to stay, isn't it?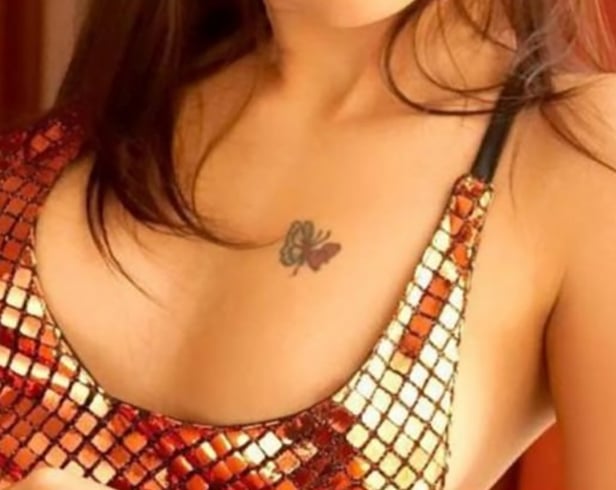 118. Pawed!
Get into a cute way to pay your homage to the 'pawed' animal via this neck tattoo. It's fun and sweet-looking (and you don't need to go to a jungle for this).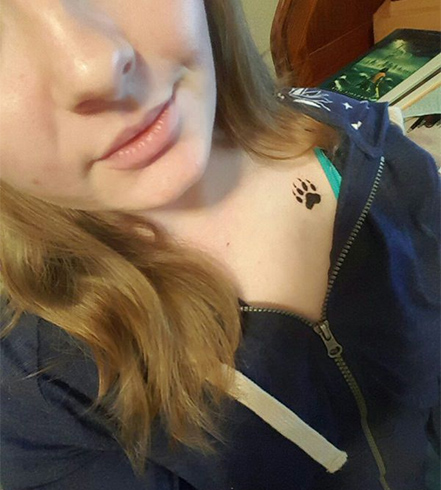 119. Neck-A-Statement:
Delicate and beautiful this tattoo looks! With the flower drooping gently on the back of the shoulder, it makes a stunning and timeless tattoo.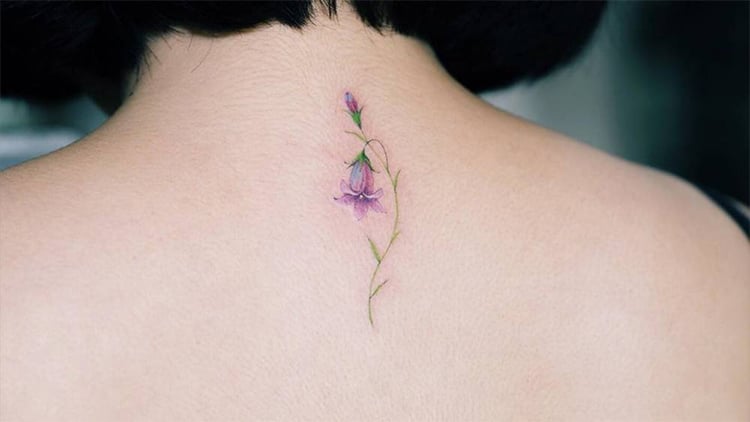 120. Rose:
what does it do? Expresses love and affection. The red rose you see in the picture will no doubt make you stand out from the crowd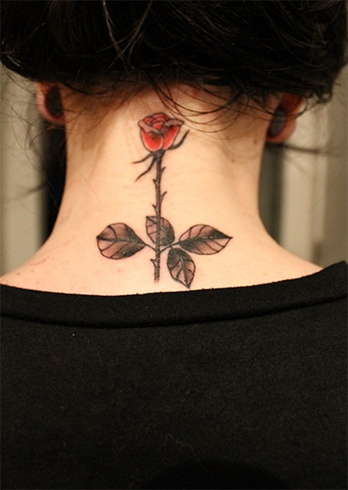 121. Cat:
The cat is finally out of the bag, sorry on the neck. The cat tattoo, I mean. Inked black in solid line and with its whiskers, it can hardly be ignored.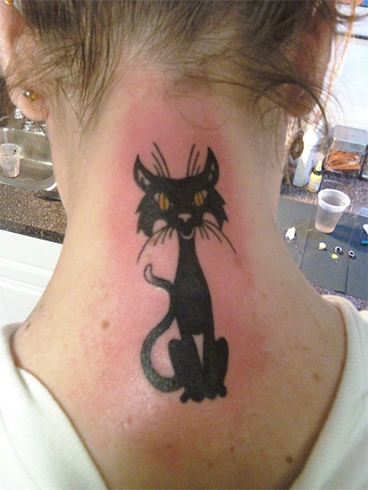 122. Black Bow:
Ever knew how trendy the back of the neck could be? Take a look at this super chic, statement-making tattoo.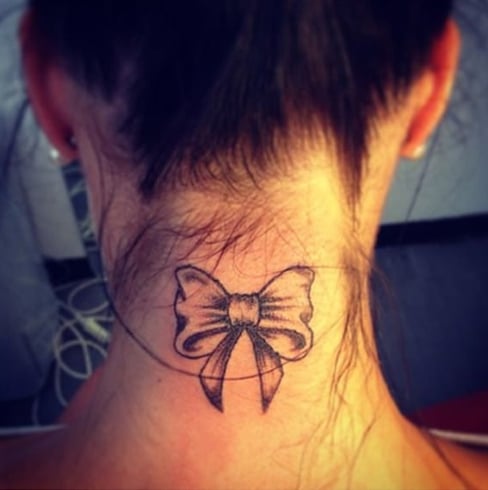 123. Collar Bone Fad:
What's screaming out in this collar bone tattoo is the bold outline of your favorite canine animal. Bold, bolder, boldest!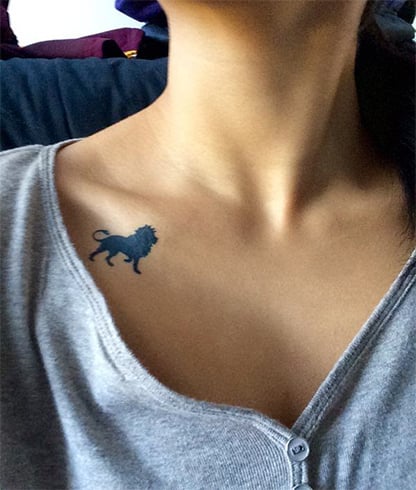 124. Hare Tattoo:
The tattoo sketch of the "super detailed" hare (shown here) is so intricate, you can feel the actual impression of the talking animal.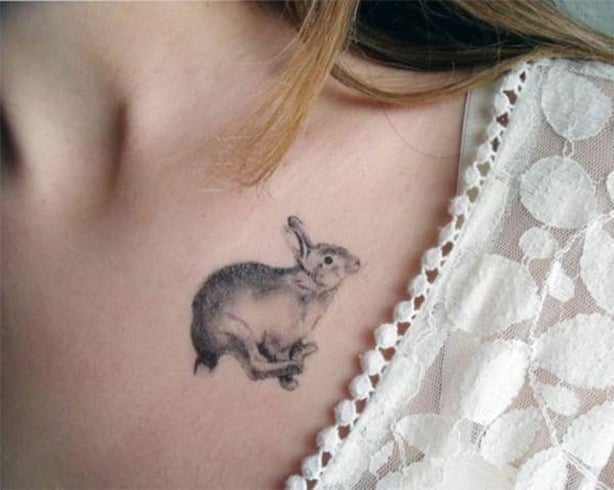 125. Paws Again:
One step at a time- follow these paws with attention. After all, they are cool-looking.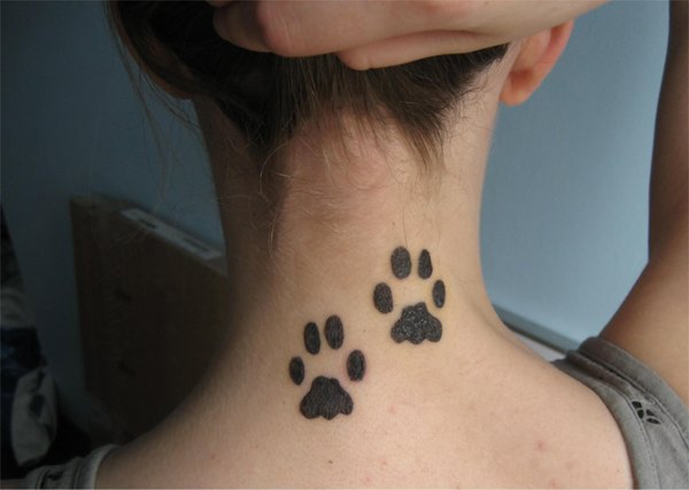 126. Musical Fascination:
Fond of music? How about sporting them on your neck? It will be a nice way to tell the whole world about your love for music.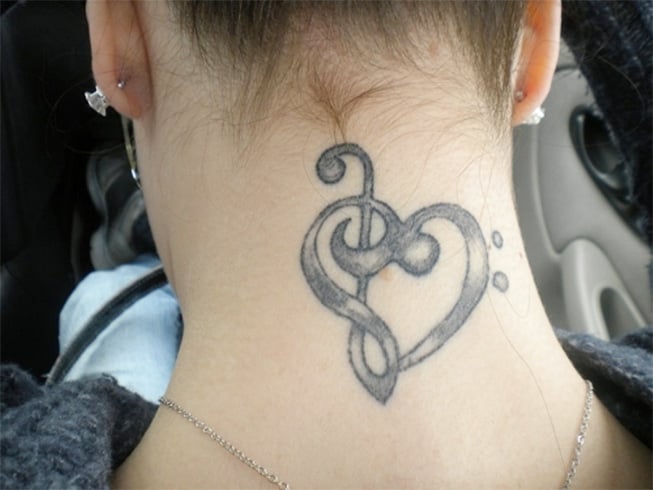 127. Bat:
This is a bat 'tat', not Batman personified. Looks pretty cool and kind of challenging, eh?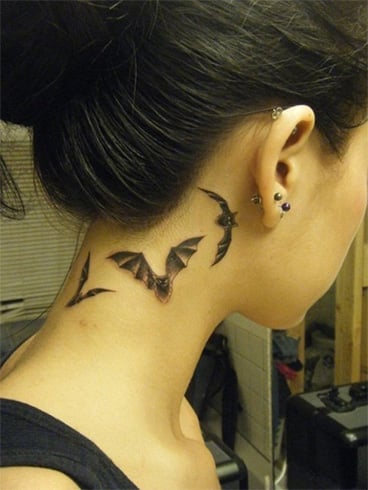 128. Infinity-to-the-best:
The power of infinity. That's what this neck tattoo beautifully captures.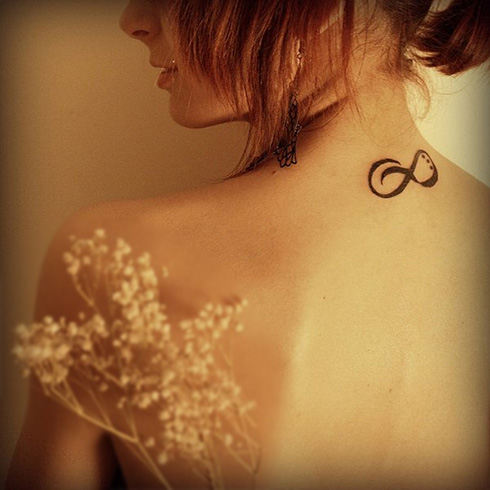 129. Butterfly:
Looks like a collar band – this butterfly tat on the neck. You wouldn't want to wear a jeweled chain with this, would you? Think.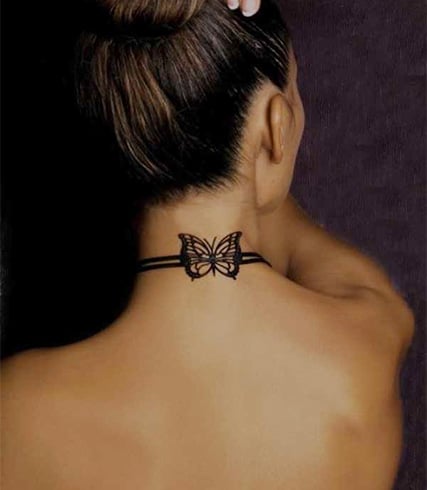 130. Dolphin:
This dolphin is not 'alive', but 'inked'. You can't play with it; only sport it on the back of your neck.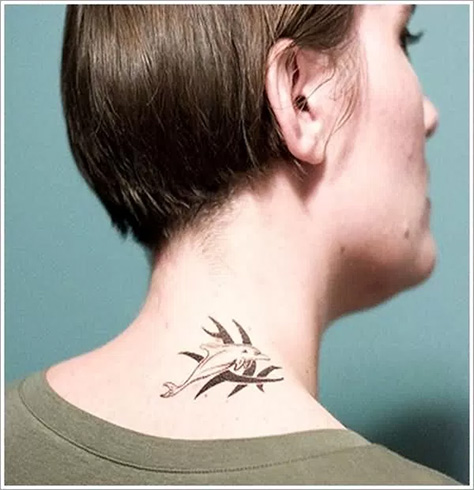 131. Watercolor Ribbon:
Don't know whether this could be the next entry at an "art gallery", but the intricacy of the watercolored effect in this tattoo could make it a top runner!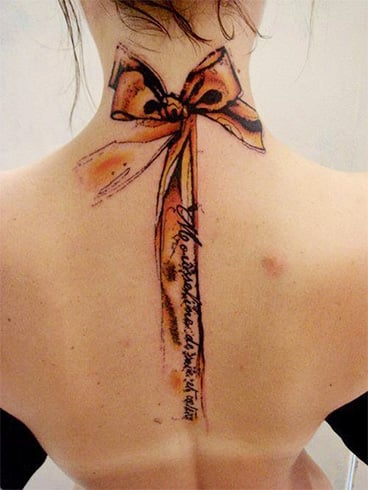 132. Sun:
This "sun" will stay with you 24 hrs a day! After all, it has been inked on the back of your neck.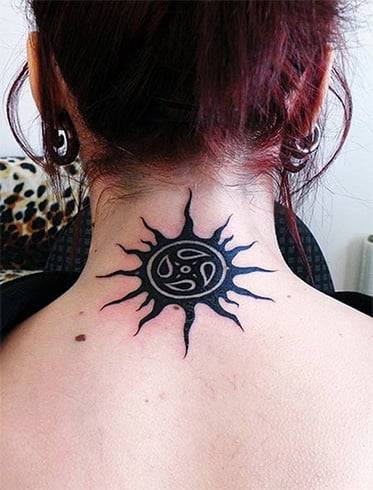 133. Star Struck:
Heard of the nursery rhyme: "Twinkle twinkle little star" ….This attractive neck tattoo (multi-colored) expresses you in ways more than one.
This was the battery of tattoos for young lasses, teenagers, and working women. Hope you liked and got the tat you were on the lookout for.
Images Source: Pinterest
(Visited 20 times, 1 visits today)